The Benefits of Plastic Pallets & Boxes
Also in this section
Cleaner, safer and more economic, we believe returnable plastic transit packaging is the superior choice for your supply chain.
We're passionate about plastic because it offers the best combination of value, durability and choice, whatever your application.
If you have any questions about finding the right pallet, box or container for you or making the switch from wood to plastic, then talk to one of our plastic pallet experts today. Email [email protected] or call us on +44 (0)1323 744057. You can also use the chat function below.
Understanding the benefits of plastic pallets, boxes and containers
Whether it's plastic pallets, pallet boxes or small containers, just some of the benefits of going plastic, include:
Designed for the application
100% size and strength consistency
10 times more durable than wooden pallets
Maximum return on investment
Recyclable, environmentally friendly
Exempt from ISPM15 regulations
Safer manual handling – no nails or splinters
Suitable for hygienic areas
Easy to wash and keep clean
No mould or dust contamination issues
Impervious to moisture, weak acids and alkalis
Space and cost-saving
Customisable
Designed for the application
Our plastic pallets and boxes are moulded under extreme pressure, in highly polished moulds for consistent, dimensional accuracy and loading capacities.
Unrivalled strength and durability
The strength and durability of a plastic pallet is unrivalled when compared with wood. Heavy duty plastic pallets and boxes can withstand high-repeat use, rigorous, closed loop scenarios.
Maximise return on investment
Plastic pallets are recognised as a business asset lasting over 10 times longer than wood. An owned pallet pool can be created using one type of plastic pool pallet and even generate its own revenue, offering a high return on investment.
Exempt from ISPM15 regulations
Plastic pallets are an economic solution for export because they are exempt from International Standards for Phytosanitary Measures No.15 (ISPM15), meaning there is no need to heat treat and certify them for use.
Suitable for hygienic areas
Smooth and easy to clean, our specialist range of Super Hygienic Pallets, Pallet Boxes and Containers are designed for hygienic applications.
Safer manual handling
Plastic pallets and boxes are manufactured without nails, sharp edges or splinters, and remove the risk of loose component parts breaking free under manual lifting conditions.
Environmentally friendly
Not only are plastic pallets and plastic boxes made out of recycled materials, they can be reground to produce new plastic products at the end of their long working life.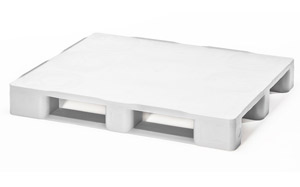 No contamination issues
No hidden pockets or areas where dirt and dust can collect, so the plastic pallet or box's surfaces remain contaminant-free.
Easy to clean
Plastic pallets can be repeatedly cleaned or washed, to remove any airborne dust or spilt products, which accumulate on the pallets over a period of time. Water-resistant, impervious to moisture, weak acids and alkalis.
A space and cost saving solution
From our nestable plastic pallets to collapsible containers, our plastic solutions save space in both the warehouse and in-transit. Meaning fewer return journeys, a reduced fuel bill and a lower carbon footprint.