Goplasticpallets.com cycle to victory for the William Wates Memorial Trust
After a gruelling 565-mile charity cycle ride, Dan Starnes and Denzil Davies of Goplasticpallets.com, the UK's leading independent supplier of plastic pallets and containers, triumphantly completed stages eight to 12 of the Tour de France route.
The Eastbourne-based duo raised over £3,200 – nearly double their original fundraising target – in aid of the William Wates Memorial Trust, when they undertook the Tour de Force five stage challenge at the beginning of July.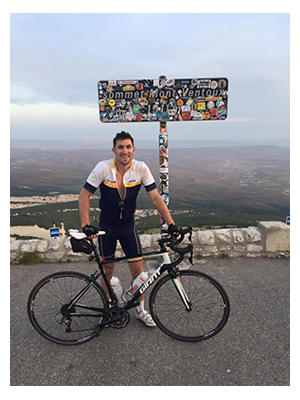 During the 10 months prior to the event, the pair clocked up over 2,300 training miles in preparation for the challenge, in which they would attempt to cycle five of the toughest stages of the Tour de France route. Starting in the Pyrenees, Dan and Denzil cycled through Andorra's mountainous road passes, before enjoying a steady decent onto the Garonne plain and then crossing the Langeudoc-Roussillon and Bouches-du-Rhone regions, taking in the stunning sights of Carcassonne and Montpellier, and finishing off with an epic ascent on the iconic Mont Ventoux.
Goplasticpallets.com Internal Sales Team Leader, Dan Starnes reflected on the challenge. His first cycle event of this kind:
"We both trained hard ahead of the ride but with the unpredictable British weather, nothing could prepare us for tackling the heat, which made an already physically demanding challenge just that much harder. Seeing the finish line at the top of Mont Ventoux was a really proud moment for both of us."

William Wates Memorial Trust
The money Denzil and Dan raised will go to the William Wates Memorial Trust, which was set up in 1998 and exists to celebrate the life of William Wates, who was tragically killed when travelling in South America. The Trust's mission is to help keep the most disadvantaged young people away from a life of crime and violence through the mediums of sports, the arts and education.
Denzil Davies also commented on their recent success,
"It was a hard but highly rewarding challenge. I'm thrilled to see we surpassed our target and have raised so much for the William Wates Memorial Trust."
The team at Goplasticpallets.com are proud of what both Dan and Denzil have achieved in completing the Tour De Force challenge and almost doubling their fundraising target. If you would still like to donate and support William Wates Memorial Trust, visit their www.virginmoneygiving.com fundraising pages by entering their names in the Make a Donation area.