How our Pallet Boxes became a key ingredient in GA Pet Food Partner's growth
In the dynamic and ever-evolving world of food manufacturing, maintaining quality, efficiency and sustainability is of paramount importance. When GA Pet Food Partners, a global leader in dry pet food production, embarked on an ambitious £80 million project to create a fully automated warehouse, the company enlisted the help of goplasticpallets.com to identify the perfect storage solution for its facility.
This case study explores the challenges faced by GA Pet Food Partners and how goplasticpallets.com provided the ideal reusable plastic pallet boxes, which are designed to endure the complexities of an automated environment. The resulting partnership has fostered a trusted relationship between the two companies that spans more than six years.
The Challenge
GA Pet Food Partners has witnessed tremendous growth over the last 50 years, evolving from arable farming to exporting over 80,000 tonnes of dry pet food to 50 different countries. To facilitate this growth, the company recognised the need for cutting-edge technology and automation to maintain the quality and efficiency of their manufacturing processes.
In 2017, GA Pet Food Partners approved the development of an £80m Ingredients Kitchen – a new, fully automated dark store warehouse operated solely by robots – which was opened the following year. Within this innovative facility, the company required a solution for storing and handling bulk dry pet food ingredients. They were in search of large containers that could work seamlessly within an automated environment whilst ensuring traceability and the provenance of all recipes produced.
The Solution
goplasticpallets.com recognised the complexity of GA's requirements and embarked on a consultative journey with them. Understanding the importance of having the right product to match GA's innovative and high-tech facility, the two management teams spent considerable time discussing how the containers would be used across different applications.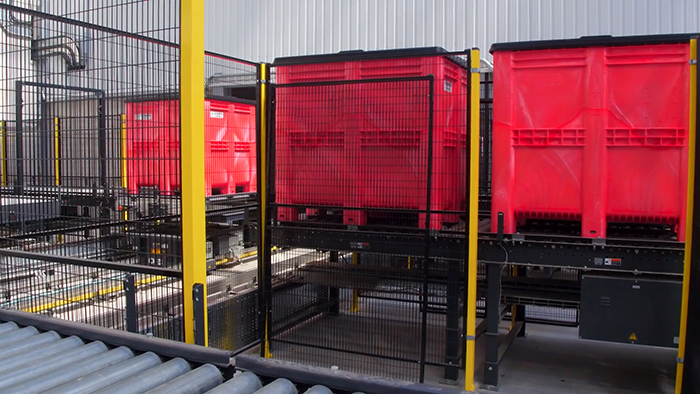 The outcome of this collaborative approach was the recommendation of the GoPalletBox 1311S 3R, the largest plastic pallet box of its kind in Europe, measuring 1300mm x 1150mm x 1250mm and offering a 1400 litre storage capacity. These boxes – manufactured by Cabka – will typically last on average 10-15 years, depending on how they're used, making them a long-term investment. Furthermore, their recyclable nature after more than a decade of use underlines the sustainability commitment that resonates with both companies.
The first order was a substantial one, comprising 19,750 units in three different colours with lids – red, green and blue – for handling different processes. These were delivered from December 2017 through to June 2018, ahead of the opening of the facility.
The Results
The implementation of the plastic pallet boxes within GA's fully automated Ingredients Kitchen was not just a success; it became an integral part of a seamlessly functioning system.
The dry bulk ingredients – including rice, wheat and barley – first enters the Ingredients Kitchen at Bulk Intake where automated sampling takes place. All of the ingredients are fully traceable from source; no ingredients enter the Ingredients Kitchen without 48 hours of testing in GA's on-site labs.
In the Pantry, the storage of bulk ingredients is managed in a controlled environment. Efficient stock planning and rotation ensures that all ingredients maintain optimum freshness.
GA has deployed two types of automated guided vehicles (AGVs) nicknamed Henry and Arthur to assist in moving ingredients on site. Weighing in at 1.5 tonnes, Henry transports containers to and from the Pantry to the Pick and Mix area travelling at 2m/s. Arthur, at 2.5 tonnes, covers 1.8 m/s transferring containers between the cellar and the station in preparation for extrusion.
The effectiveness of this solution led to further orders: 5,000 boxes and lids delivered from December 2020 to June 2021, and another order for 1,942 boxes and lids, delivered in July 2022.
But beyond the numbers, the continued success and repeat orders reflect the nature of a trusted partnership that has lasted more than six years. goplasticpallets.com's ongoing consultative approach fostered this relationship, showing that the correct solution, coupled with attentiveness to client needs, can create lasting business connections.
In words
Jim Whittingham, Operations Director for GA Pet Food Partners, affirmed this success, stating, "This investment has seen us work with several highly skilled organisations from around the world, goplasticpallets.com being one of them. From our initial enquiry, right through to our final delivery, the whole goplasticpallets.com team has been extremely helpful and attentive – keeping us updated on the status of all deliveries. We couldn't be happier with the performance of the boxes."
Jim Hardisty, Managing Director, goplasticpallets.com, said: "After six years and multiple successful orders, the relationship between GA Pet Food Partners and goplasticpallets.com continues to thrive. It's a testament to the value of understanding client needs, offering tailored solutions, and nurturing relationships that go beyond mere transactions.
"We are proud to offer the largest selection of sustainable plastic pallets and boxes in the UK, enabling us to provide our customers with innovative solutions that seamlessly integrate with cutting-edge warehouse automation systems."
Conclusion
The collaboration between GA Pet Food Partners and goplasticpallets.com illustrates a perfect blend of technology, innovation, sustainability, and mutual respect. By recognising the intricate requirements of GA's fully automated warehouse, goplasticpallets.com was able to provide a solution that not only met their immediate requirements but also aligned with their long-term goals.