Racking up the savings with recycled plastic pallets
Over the last few years, more and more businesses have turned to plastic pallets because of their superb performance, longevity, and long-term cost-saving.
At Goplasticpallets.com – The Responsible Plastic Pallet Company, we have been able to help more and more businesses realise these benefits while offering them the UK's widest range of products and a service that perfectly matches our product to their application.
This was certainly the case for one of our most recent customers, Sunbelt Rentals UK & Ireland.
Sunbelt Rentals is one of the UK's largest rental equipment specialists. In July 2021, they asked us to provide a solution that would safely store its specialist lifting equipment at its new sales distribution centre in Sutton-Ashfield, Nottinghamshire.
Sunbelt Rentals needed a robust and reliable pallet that could store heavy products, including lifting hoists and heat exchangers in racking for a prolonged period of time.
We met with Warehouse Manager Kyle Hughes and carefully listened to his requirements. After understanding his needs, we recommended two high-performing, recycled plastic pallets.
We arranged for the two options to be sent to the warehouse in Nottinghamshire so that Kyle and his team could fully test the Cabka-IPS ER100 NL2 5R and APB 1210 Pool Open 5R Black. These plastic pallets were selected because they are long-lasting, offer supreme strength, excellent racking capabilities, and minimal deflection under load. The pallets varied slightly in specification and price, and after carefully considering each option, Sunbelt selected the Cabka-IPS ER100 NL2 5R and placed an order of 1,700 units.
Our Cabka-IPS ER100 NL2 5R is a very strong and long-lasting plastic pallet, perfect for high-repeat use. It is made from recycled HDPE plastic, comes on a footprint of 1200mm (L) x 1000mm (W) with five runners, and can hold up to 2,000kg in racking. Kyle Hughes explains more about the pallet in action and why it was such a good choice for Sunbelt.
A first-class facility
Kyle said, "It's great to see all of our stock stored responsibly on long-life recycled plastic pallets. The pallets have, without question, turned this distribution centre into a first-class facility."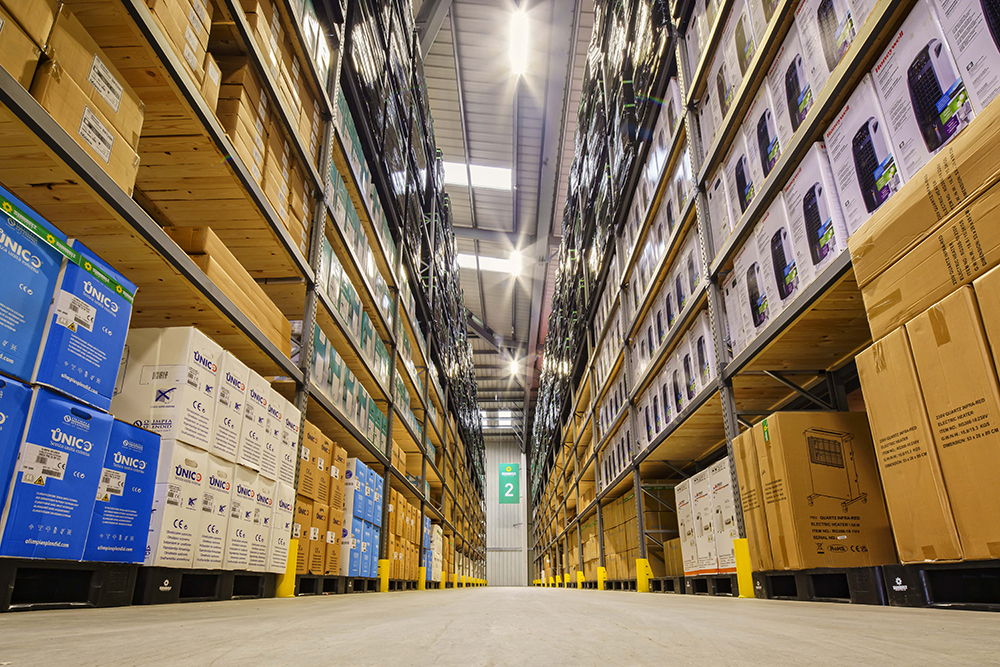 "I'd known about Goplasticpallets.com for some time because of their reputation, quality products, and pledges to recycling. I made an enquiry and spoke with Sales Manager, Dan Starnes, who came to visit the warehouse to see our operation. He really took on board my vision for what I was trying to do here and understood that I needed a strong pallet, one that could hold thousands of kilograms of stock for long periods of time in our racking.
"Performance, safety, and sustainability were paramount, but I also wanted them to look good in the racking! Having the Sunbelt logo printed in the side gives them a professional look.
"From placing the order to when we received our first batch of 400 plastic pallets, it was such a speedy turnaround. We received a drop every week until the order was fulfilled, which enabled us to get up and running in the warehouse very, very quickly.
"The service was excellent, and the products are even better. I can't speak highly enough about the pallets. I've worked with wooden pallets most of my career and the durability of the plastic pallets is phenomenal."
The Distribution Centre is a main hub for Sunbelt in the UK and supplies smaller centres across the rest of the country. At any one time, there could be up to £5million worth of stock ready to be distributed.
Kyle continued, "I've got roughly £5million pounds worth of stock in the warehouse. When we receive stock into the building, we decant it straight onto the pallets, and then safely store it in the racking.
"A pallet can have anything up to 1 tonne on it, storing items such as lifting hoists, 7-kilowatt heat exchangers, 27-kilowatt air conditioning units, and industrial dehumidifiers. I've got roughly 240 air conditioning units in stock, and we might not sell many during the year, so it was vitally important that the pallets were durable and didn't deflect too much with the ability to bounce back over time. We needed that longevity and not have to worry about the pallets giving way like wood does."
Safety first
Along with plastic pallets' incredible performance capabilities, Kyle revealed he made the switch to plastic because of their safety benefits.
Kyle explained, "For me, it's also about safety, especially with the weight of stock we're putting into the racking. Wood is unpredictable and can easily break, especially when handling. If you're loading up a wooden pallet and the forklift catches the wood, it can seriously damage the pallet or even destroy it.
"Wooden pallets can vary in quality depending on the supplier. You can never be 100% certain of what you're getting. But the plastic pallets can withstand bumps and shunts. They stand up to everything we throw at them. There is no damage, and none of the pallets have broken – and we have tested them thoroughly!
"It's imperative that the pallets are safe and won't give way when my guys are storing and retrieving items from the 9-metre-high racking.
"I also had to consider budget. I know these plastic pallets will last a long time, unlike wooden pallets. In my experience, I've had to replace wooden pallets every few months because they've been smashed to pieces. But I've not bought any wooden pallets in the 10 months the facility has been open, which has saved us over £10,000 – so the long-term cost-saving over the next 10 years or so will be extremely beneficial to the business.
To add to that, Sunbelt has a strong commitment to the planet. We're working hard to lower our carbon emissions to create positive change for a greener future. So for us, we want to do everything we can to contribute to more sustainable operations and making the switch to plastic pallets is an important part of our strategy."
We are delighted to provide Sunbelt Rentals UK & Ireland with a product that is perfect for their needs, contributes towards their sustainable approach, and will deliver an enormous cost-saving over the next decade – or longer!
If you would like to realise the benefits of plastic pallets, then please get in touch with one of our experts.