RTP can help automotive manufacturers achieve zero-waste goals
Single-use packaging like cardboard, tape, bandings and wrappings presents a big challenge to vehicle manufacturers in their quest to cut the amount of waste they send to landfill. Jim Hardisty, Managing Director for Goplasticpallets.com, urges manufacturers to adopt a closed loop approach to recycling packaging waste by using Europe's largest returnable transit container, which is already helping clients in the waste management industry to reduce costs and improve recycling efficiencies.
Whilst increasing environmental strategies to achieve landfill-free facilities is high on the automotive industry's agenda, it's crucial that manufacturers remain open to considering new ways of reusing and recycling packaging waste.
EC Packaging and Waste Directive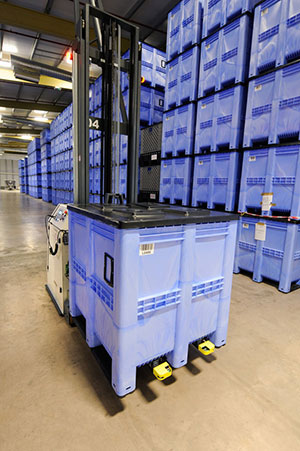 All vehicle manufacturers and other automotive companies with an annual turnover of more than £2 million and that handle more than 50 tonnes of packaging a year are required to meet the producer obligations under the EC Packaging and Waste Directive. This places a legal responsibility on the businesses which make or use packaging (raw materials manufacturers, converters, packer/fillers and sellers) to ensure that a proportion of the packaging they place on the market is recovered and recycled.
In 2014, obligated automotive companies in the UK are expected to recover 76% of their packaging waste and recycle 69.9%.
Although ambitious, progress to date suggests that these targets are attainable since of the 10.8 million tonnes of packaging waste disposed of in the UK in 2011, around 67% was recovered in comparison to only 27% in 1998.
The Society of Motor Manufacturers and Traders' 2013 Automotive Sustainability Report also confirms that in 2012 the total amount of waste going to landfill from materials production dropped by 21.1% and by 6.7% per vehicle, despite a significant increase in the number of vehicles produced.
Europe's largest returnable transit container
Adopting a closed loop approach to waste management can help automotive companies achieve their challenging recycling targets, without escalating costs.
Putting a closed loop system in place can be as simple as using returnable transit packaging for the collection and disposal of waste. For example, plastic containers have a life expectancy of up to and sometimes exceeding 20 years, so they can be reused repeatedly and at the end of their long working life they can be re-granulated to produce other plastic products – creating a double win for waste recycling.
We stock Europe's largest returnable transit container – our GoBox 1311 LRS – which measuring 1300mm (L) x 1150mm (W) x 1250mm (H) offers an impressive storage capacity of 1,400 litres, making it ideal for the collection and disposal of all types of packaging waste material.
In comparison to large metal skips, our GoBox 1311 LRS offers automotive companies several benefits: Metal corrodes, so when skips are placed outside, their condition deteriorates rapidly; metal skips are also unsightly, particularly when covered in rust, and they can be heavy and cumbersome to manoeuvre when full.
With solid walls and an unventilated construction, our GoBox 1311 LRS is completely weather-resistant and can be safely stacked up to seven boxes high. Manufactured from recycled high-density polyethylene (HDPE) in blue as standard, it is much lighter than alternatives – weighing in at 72kgs – offers superior durability and is recyclable, so at the end of the boxes' long service life companies can maintain their environmental commitment.
Plastic RTP available next day, from stock
Our experience working with waste management companies has proven that our GoBox 1311 LRS can dramatically improve the efficiency of the recycling process. The process is simple. We can deliver the containers next day from stock, so they can install them quickly onsite and then when full, collect and replace them with empty ones.
For added protection, our GoBox 1311 LRS is also available with a secure-fitting lid and for larger orders different colours and other customisation options are available.
In the next 10 years, we expect that the use of returnable transit containers for waste recycling to grow between 200-300 per cent as waste management companies move away from wasteful single trip packaging, towards this more sustainable solution.
Call us on 01323 744057 for further information about our GoBox 1311 LRS or click here to request a quote.