"THE" Plastic Pallet for Automation
As digital technology advances and warehouses continue to evolve there is an even greater adoption of automated technology and that is only set to continue. Businesses that embrace these innovations can enjoy a strong advantage as moving to an automated way of working can lead to greater accuracy, operational efficiencies, and increased productivity.
In this blog, we explore how automation is transforming our modern warehouses and explain why we believe our APB 1210 Pool Pallet available on 3 or 5 runners and with an open or fully closed deck is "THE" plastic pallet of choice for automated handling scenarios.
Warehouse automation keeps evolving
Warehouse automation is a present day reality and as technology keeps evolving it is becoming more common place. Although the primary purpose of a today's warehouse remains the same – storage – the simple warehouse that was once a small part of the supply chain no longer exists.
In the last decade alone, warehouses have been relied on to handle an increasing number of tasks, and these tasks are becoming ever more complex. From managing stock inventory and facilitating storage and retrieval to optimising the dispatch of goods, warehouses today are required to perform tasks faster and smarter than ever before 24/7/365. With this increased complexity has come the need to automate; to perform these tasks with greater speed, accuracy and more cost-effectively than before.
In general, emerging technologies are not widely installed, but research suggests that adoption this year will grow at a rapid pace. This includes technology such as autonomous mobile robots and collaborative robots (cobots) that can perform highly repetitive tasks with greater precision and efficiency.
Introducing our APB1210 Pool Pallet
The APB 1210 Pool Pallet – available on 3 or 5 runners and with an open or fully closed deck – is one of the most popular plastic pallets in our range and has become a firm favourite for automation projects.
Why? There are many reasons for this, let us explain.
Pallets are designed to accept evenly distributed loads, which is the normal use and method of testing, but heavy loads can cause a deflection in the pallet, when supported in racking or other systems. But this deflection needs to be small; if the pallet deflects under load, then cranes or shuttles are not able to access under the pallet and also could cause it to "ground out" when traversing cross overs between powered roller sections. Our APB 1210 Pool Pallet has been tested in many systems, with different loads, and has been proven to exhibit only a very small deflection.
Of course, automation needs a medium or heavy duty plastic pallet that has the strength, durability and consistency to move goods around all types of automated systems reliably with ease and without the risk of loads shifting, which can cause unnecessary disruption and damage.
Our APB 1210 Pool Pallet has a well-designed structure with a smooth top deck and corners, so no sharp edges. The pallet is moulded under extreme pressure from highly polished moulds, ensuring consistent dimensional accuracy – essential for moving smoothly through automated systems. Use the wrong pallet and disruption from snags or tears can result in lengthy delays, missed shipments and a huge cost to businesses. Like all plastic pallets, our APB 1210 Pool Pallet is devoid of nails and splinters, which can jam equipment and pose a fire risk.
As a heavy duty plastic pallet, it can be used with all of the normal materials handling equipment, such as pedestrian pallet trucks, conventional forklift trucks, double fork pallet handlers, VNA trucks and pallet inverters, as well as running on all types of automation in the warehouse. Another benefit is that it is easy to wash and dry in a fully automatic pallet wash machine.
Manufactured in a virgin grade, high quality Polypropylene (PP) or recycled material, this heavy duty 1200mm (L) x 1000mm (W) x 160mm (H) plastic pallet is proven for long term use in multi-trip supply chain scenarios. Its super strength means that its capable of storing static loads of 5000kg, dynamic loads of 2500kg and up to 1250kg in racking.
The APB 1210 Pool Pallet can be printed for identification and supplied in a range of colours. There are specific areas on the corner blocks of the pallets where labels can be securely fitted and it is also possible to optimise the management of the pallets using an IoT system by fitting RFID tags internally within the pallet structure.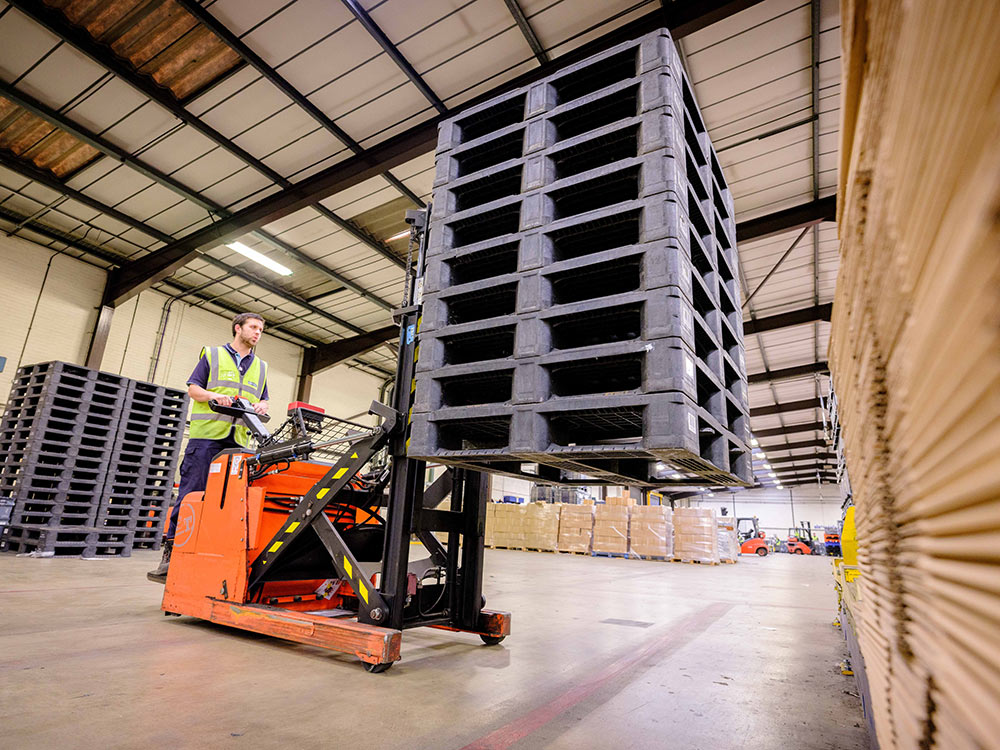 The APB 1210 Pool Pallet in Action!
For all the above reasons and more, this is "THE" plastic pallet for UK automation, but don't just take our word for it; here are some scenarios that prove just how effective our APB 1210 Pool Pallet is in automated handling applications.
Bright orange plastic pallets for major supermarket chain
We supplied 36,000 of our APB 1210 Pool Pallet to a popular supermarket chain. The plastic pallets were bright orange, to match that of the store's branding and ensure they were clearly identified.
The APB 1210 Pool Pallets work extremely well for this supermarket giant in its highly automated, high bay chilled environment with powered conveyor, turn tables and random placement. The customer has also been able to offer the pallet for "rental" to its chilled and fresh produce suppliers on a trip basis or "pay as you use".
The result? The plastic pallets paid for themselves in the first six months.
Supporting high street retailer with easy identification in automation
Working with a major high street retailer, we supplied 24,000 APB 1210 Pool Pallets made from recycled materials. After thorough testing it was then adopted to work within the customer's Knapp automated storage and retrieval system at its distribution centre.
The distribution centre is key to fulfilling all online orders as well as lining the shelves of the retailer's 300+ stores. Each pallet has four bar code labels, one on each side of the pallet, which allows for easy identification.
The mid-grey colour of the recycled pallet ensures that it can also be "seen and checked" quickly and easily by the light sensors within the automation, minimising intervention by system operators when the pallets are in use.
The result? Five years on, everything works as if it were day one.
Robustness and the perfect design
We supplied 12,000 APB 1210 Pool Pallets to use at the newly built Hamad International Airport in Doha, for the storage and retrieval of goods destined for the airport's duty-free shops.
The duty-free goods for this impressive modern and very busy airport, arrive from all over the world to the airport's duty-free warehouse, where products are barcoded and stored in one of the 11,575 high bay racking positions until they are required for display.
When goods are required, they are located and retrieved from the racking using automated guided vehicles and transported to the airport's goods receiving section, where they are depalletised and the pallets are returned to the warehouse for reuse.
The reason the APB 1210 Pool Pallet was chosen for this very important job was because of the robustness of the design for long term use and its proven track record in automation and racking.
Right pallet for the right job
Working with a major natural snack company it quickly became apparent they needed some expert advice when choosing the right product for the job.
Their previous supplier had supposedly sold them a heavy duty plastic pallet to handle loads of up to 1200kg in racking, but the pallet was breaking under load. In reality, they had been sold a medium duty plastic pallet with additional steel bars to increase the racking load. However, with less material and thinner weaker sections, a reinforced medium duty plastic pallet will never offer the same performance, strength and damage resistance as a heavy duty plastic pallet.
After listening to the customer's story, we made sure we fully understood how they would be using the plastic pallets and recommended our heavy duty APB 1210 Pool Open 5R made from Recycled Polypropylene. Due to their previous bad experience, the customer was keen to test the pallet, so we agreed to a three-month trial period.
The customer was delighted with the performance of the pallet and ordered 600 units in total giving praise for being "excellent" pallets as "they just don't break!"
Ask the plastic pallet experts
When choosing a pallet for use in automation there is a lot to consider, which is why it's important to consult with your supplier to ensure you buy the pallet best suited to your application.
At Goplasticpallets.com we stock the UK's largest range of plastic pallets, pallet boxes and smaller containers and our team has more than 160 years' combined experience in recommending solutions for customers across many different sectors from food and pharmaceutical to retail and the automotive industry.
Get in touch to discuss your automation project on 01323 744057 or email your enquiry to [email protected]. You can take a look at the APB 1210 Pool Pallet here.