The Plastic Pallet Online Shop!
Now you can buy a selection of plastic pallets online in our exclusive shop.
Our online shop offers a diverse selection of plastic pallets across our entire range from lightweight nestables and export pallets through to heavy duty pool pallets and specialist hygienic varieties.
Each product is available to purchase online from a half stack up to five full stacks. You can pay by credit card or apply online for a credit account.
We are also offering FREE UK Mainland delivery and all products are guaranteed to be with you within 3 working days!
"We've launched the shop to help streamline the purchase process for those customers who know what they want!", explained Jim Hardisty, Managing Director of Goplasticpallets.com. "We recognised the need and demand and have responded accordingly. The shop has launched with around 50 plastic pallets, all of which are used for a variety of applications across a multitude of industries. We will be expanding the range in the coming months."
BROWSE THE PLASTIC PALLET ONLINE SHOP
PRODUCTS AVAILABLE TO BUY ONLINE
Below is a selection of plastic pallet that are available to buy online. These are all made from recycled plastic.
Designed for heavy duty, high-repeat use. Moulded to withstand rigorous handling. Perforated for ventilation and easy cleaning.

As low as £49.70 + VAT
BUY ONLINE
IPS Medium 1210 Open M5
Lightweight, weighing 14kg yet strong enough to bear up to 1,000kg in racking. Ideal for closed loops, distribution, production and exports across all industries.

As low as £8.60 + VAT
BUY ONLINE
A strong, ultra-lightweight and economic, nestable plastic pallet. Able to transport heavy loads over long distances and designed for multiple use across various applications.


As low as £10.20 + VAT
BUY ONLINE
A lightweight, open deck, long life nestable plastic pallet designed for one-trip consignments, exporting goods and multi-use applications.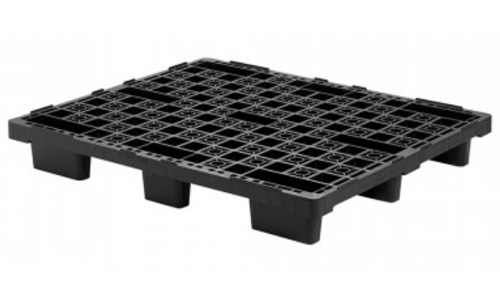 As low as £10.80 + VAT
BUY ONLINE
Need something a bit different? Not sure which pallet is right for your application? Talk to us today! Email sales@goplasticpallets.com, call us on +44 (0)1323 744057 or use the online chat facility to get a quote online.