Why nestable and heavy-duty pallets are the gold standard for point of sale
Over the next few months, retail significantly begins to ramp up in the UK. For months, retailers have been planning their Halloween, Black Friday, and Christmas displays and can maximise sale opportunities by utilising plastic pallets at the point of sale.
Here are some of the ways plastic display pallets, such as our heavy-duty and nestable pallets, can facilitate an increase in sales.
Point of sale processes
Point of sale is the pivotal point at which maximum impact is crucial. Difficult trading times and a decrease in sales by volume mean always being a step ahead of the competitor is advantageous. Therefore, fast, convenient, streamlined processes are non-negotiable. Even if consumer spending has decreased, shoppers are still enticed to buy products because of eye-catching retail displays.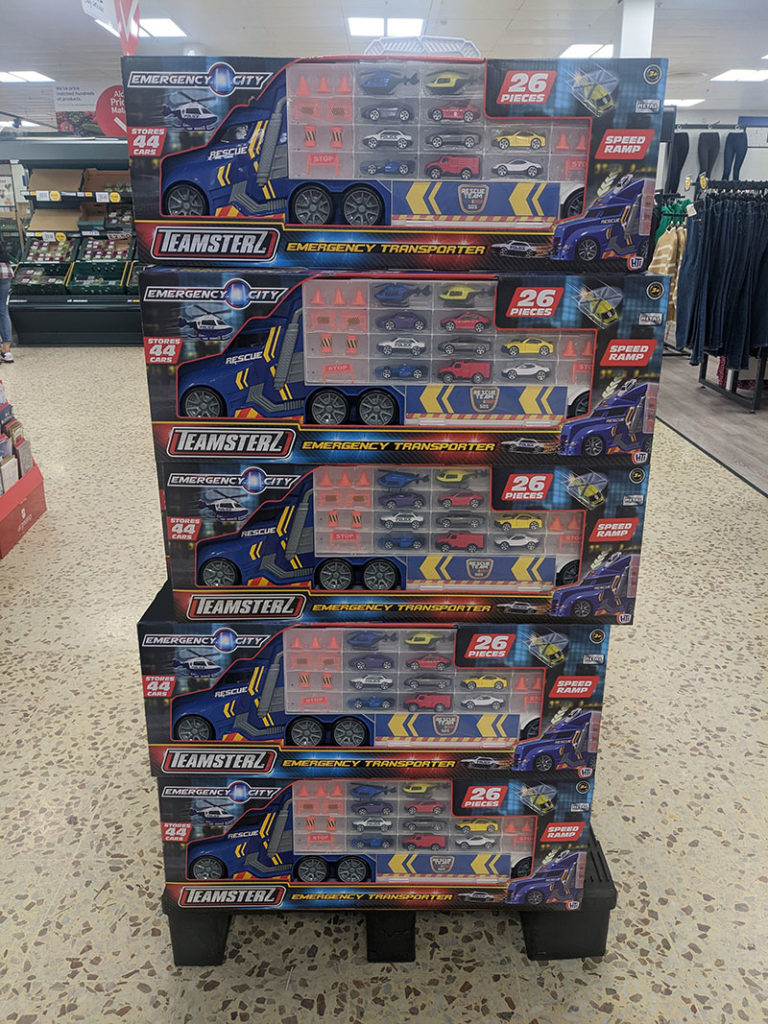 Convenient
Nestable and heavy-duty plastic pallets offer businesses the convenience of shipping products straight to the shop floor, mitigating the time and workforce required to unload and restack stock. This timesaving process frees up resources to allow for a regular point-of-sale rotation, using consumer trends to display high-turnover products to customers. Our APB 6080 specialist display pallet is discreet, durable, and a much safer and hygienic alternative to a wooden pallet. It has a top deck slot designed to fit a 7mm cardboard display box or plastic sleeve. This enables the pallet to be taken straight from delivery to point-of-sale, ready for display.
Lightweight and easy to handle
It's one thing having the option to unload and display point-of-sale products quickly, but the key is in doing so with ease. Nestable plastic pallets such as our SF 1000 H Retail Pallet offer a lightweight solution. This pallet weighs just 8kg and is much easier and safer to handle manually than heavy, unwieldy wooden pallets. Our SF 1000 H Retail Pallet can also be stacked up to 40 pallets high (2250mm), saving space in busy and full warehouses.
Aesthetically pleasing
A display stand needs to complement products, not distract. Our point-of-sale pallets are much more aesthetically appealing than a wooden pallet and allow products to take centre stage. Many of our pallets are available in a variety of different colour options and can be personalised with company branding to create a cleaner and more professional display.
Ideal for storage
Heavy-duty plastic pallets are moulded under extreme pressure to ensure each pallet is consistent in size, weight, and dimensional accuracy. We thoroughly test our plastic pallets in high-stress real-world environments to ensure they can stand up to the demands of the retail supply chain. Our popular APB 1210 Pool Open 5R Blue holds a dynamic load of 2,500kg and 1,250kg when stored in racking. This load capacity is ideal for retailers who store items in large quantities before presenting them to customers.
The sustainable option
According to a McKinsey & Company report, the global pandemic has increased the urgency of pursuing sustainability in retail. This is particularly important as more and more consumers consider the environment and sustainable practices when considering who to purchase from. Plastic pallets can bring sustainability and circularity to a retailer's business, particularly when using recycled plastic pallets. We close the loop and promise to take full responsibility for the products we supply by recycling them through our pioneering recycling scheme. This helps us to provide reliable and reusable solutions that do not contribute to supply chain waste.
So, when it comes to retail displays, nestable and heavy-duty plastic pallets are the gold standard. They allow retailers to present their goods to customers in a timely and attractive fashion to maximise sales opportunities.
Please get in touch with one of our experts if you would like more information about our nestable and heavy-duty pallets for your retail displays. Call 01323 744057, email sales@goplasticpallets.com, or use our chat function at goplasticpallets.com.