Black Friday Planning: Strategies for Retailers and Supply Chain Managers
Many Operations Directors, Logistics Managers and Supply Chain Experts would never have heard of Black Friday or Cyber Monday at the start of their careers, but fast forward thirteen years and they are now considered two of the most significant dates in the industry calendar, especially for those working in retail, for a fulfilment house or a delivery partner.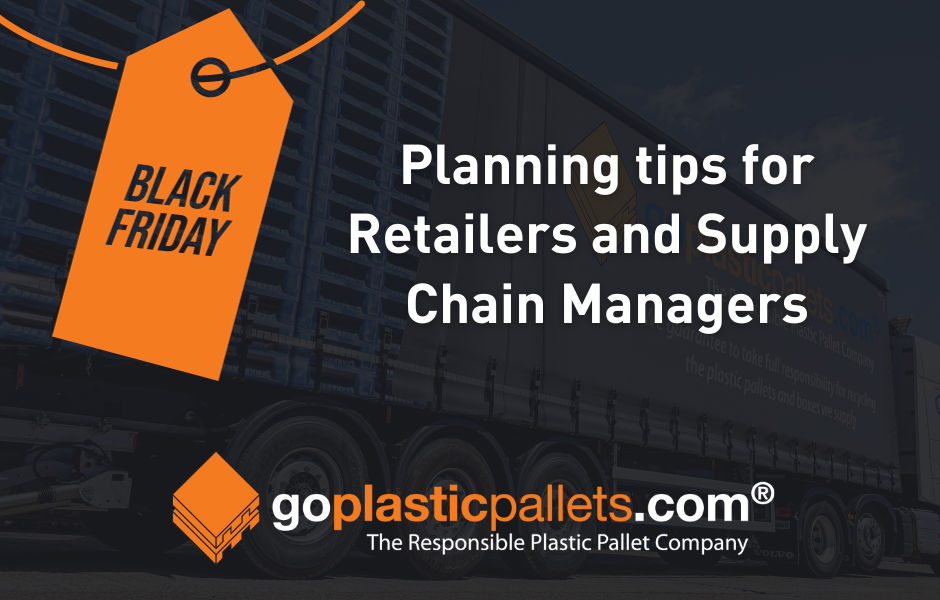 First introduced to the UK by online retailer Amazon in 2010, Black Friday falls on the day following the US Thanksgiving holiday. Throughout the following decade, the popularity of Black Friday accelerated at a rapid pace as more businesses looked to drive revenues by attracting huge crowds with cut-price offers. Asda was one of the first companies to take this online phenomenon in-store, but later received bad publicity after those infamous videos of customers fighting over reduced TVs made headlines across the country.    
It is fair to say that Black Friday is now more of a measured event. This is partly due to changing consumer behaviour, with many preferring to shop online, as retailers improve the overall user experience, but also down to the event being elongated substantially. Many businesses now choose to introduce different offers in the weeks leading up to Black Friday and Cyber Monday (which falls three days later), and then all the way up until Christmas. Whilst this has done a great deal to lessen the logistical burden on the immediate days following Black Friday itself, it has now created a prolonged peak season that doesn't ease until the New Year. 
The preparation for such a busy period must be meticulous. In fact, some of the larger retailers, together with their logistics partners, start planning for the peak season as early as January, once the previous peak has been evaluated. We asked a number of our own customers and partners – both retailers and logistics companies – for advice on how best to prepare for the peak season, as well as what lessons they've learnt. Here's what they said:
Utilising Supply Chain Data for Accurate Black Friday Planning
Data from across the entire supply chain should be carefully analysed to ensure to accurate forecasting and resource planning. Armed with this information, retailers can then proceed to strategically fill their warehouses with the necessary products. It is crucial to ensure that a diverse range of items are readily available to meet the varied demands of consumers during this busy shopping period. Additionally, incorporating a buffer stock is a wise strategy to avoid any potential shortfalls.
Collaborative Strategies for Efficient Black Friday Operations
For those retailers working with fulfilment providers for packing and shipping, clear and timely communication is essential. Informing your fulfilment partner about the anticipated volume of packages for Black Friday enables them to make the necessary preparations to ensure seamless shipping. By proactively discussing expectations and requirements with your logistics specialist, you can mitigate the risk of delays and contribute to a smoother, more efficient Black Friday operation.
Harnessing Predictive Analytics for Supply Chain Optimisation
Don't be afraid to leverage predictive analytics tools and programmes. These technologies, utilising big data, artificial intelligence, and machine learning, can help with forecasting, route optimisation, and supply chain management – helping you to streamline operations and enhance productivity during peak times
Taking Stock of Resources Ahead of Black Friday
Ahead of Black Friday, logistics companies should conduct a thorough audit of their facilities and materials handling equipment, ensuring they have the resources available to handle forecasted volumes and more. This might involve sourcing additional hand-held devices, forklifts, plastic pallets, scanners, and other essential equipment.
Equally important is ensuring that there is adequate storage space within the warehouse to accommodate the incoming stock. Conducting an audit of your existing inventory can provide valuable insights and help to optimise space. Consider relocating slow-moving products to temporary containers to create more room for high-demand items. This proactive approach helps to identify and address any potential bottlenecks or resource gaps.
Consider using foldable sleeve packs  – such as the CabCube 3.0 3R – to make efficiency gains. When they are not in use, these sustainable products can be folded down to save significant space during transportation, as well as in the warehouse. Nestable plastic pallets are also an excellent choice for sustainable businesses looking to enhance operations.    
Strategic Placement of Fast and Slow-Moving Goods
Group your incoming inventory from the fastest to slowest moving. It would make sense to place the fastest moving items at a central location in the warehouse—so that they can be picked and delivered in the minimum possible time. The slower-moving items can be placed in areas that are away from the shipping dock. You'll be surprised how much time you'll save while processing and fulfilling orders.
Enhancing Point-of-Sale Displays with Nestable Plastic Pallets
With increased footfall and limited shelf space, retailers need to think strategically when it comes to point-of-sale displays in order to sell more products in-store. Nestable and display plastic pallets provide businesses with the advantage of transporting products directly to the shop floor, reducing the time and labour involved in unloading and rearranging stock. This efficient approach frees up resources and enables a consistent rotation at the point-of-sale, allowing retailers to showcase those products in high demand.
The Evolution of Black Friday
The evolution of Black Friday has had a monumental impact upon the logistics and retail industries over the last 13 years. This extended peak season has only emphasised the need for meticulous preparation and strategic planning, supported by the use of data from across the supply chain. Meanwhile, the strategic use of resources – from foldable sleeve packs to nestable plastic pallets – and the tactical placement of goods within warehouses, are essential for optimising efficiency and meeting consumer demands.
In 2023, Black Friday falls on November 24th, whilst it will take place on November 29th in 2024 and November 28th in 2025.
goplasticpallets.com offers the UK's largest range of plastic pallets, pallet boxes, small containers, crates and trays. If you need help, one of our knowledgeable and friendly pallet specialists will gladly offer guidance and discuss your requirements. Call 01323 744057 or email sales@goplasticpallets.com