Euro containers in all shapes and sizes
By holding a large volume of stock, Goplasticboxes.com can offer next day delivery for Euro containers in all the conventional sizes but also some more unusual ones.
The company's long and narrow Euro containers – the GoBox 1750 EU and GoBox 1800 EU – offer a much stronger and more cost-effective alternative for storing and distributing long components to the 'cut and shut' options currently available on the market.
Traditionally, to create a container more than twice as long as it is wide, fabrication companies would cut off the ends of two 600mm long containers and weld them together to achieve the desired 1000mm length. By using the GoBox 1750 EU and GoBox 1800 EU containers, end users can now be spared this additional time and expense and benefit from a higher quality, seamless product.
Russell Smith, Business Development Manager for Goplasticboxes.com, said: "Long components can be challenging to store and move about, but our GoBox 1750 EU and GoBox 1800 EU containers address this problem. They're proving particularly popular in the automotive supply chain for the storage and distribution of long car parts: sections of wiring harnesses, shock absorbers, drive shafts, seat runners, to name a few!"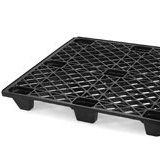 Measuring 1000mm (L) x 400mm (W), Goplasticboxes.com's long and narrow EU containers come in two different heights – 230mm and 120mm. Strong and durable, these Euro containers have no joins or ridges in the base or side walls so maintain maximum strength and integrity.
Like all of the Euro boxes in our range, our long and narrow containers have straight-sided walls, so can stack securely up to 10 boxes high, taking up minimal footprint in storage and transit. A standard trailer load can hold up to 726 of the taller containers and 1452 of the shallower version.
Call us on 01323 744057 for an instant quote or email us at sales@goplasticboxes.com.