Introducing the new plastic pallet powerhouses: The Cabka Eco CP3 3R and the Cabka Eco CP9 6R
We sat down with Steve Penney, our UK Key Account Sales Manager, to discuss the latest additions to the UK's largest range of plastic pallets, pallet boxes, crates and trays…
Hi Steve, can you tell us about these new products?
Absolutely. At goplasticpallets.com, we're always looking to provide our customers with sustainable and industry-leading products that meet their unique needs. Our two new additions, the Cabka Eco CP3 3R and the Cabka Eco CP9 6R, are excellent examples of this commitment.
What are the key features of the Cabka Eco CP3 3R?
This open-deck pallet is 1140mm x 1140mm in size, offering a strong but lighter weight design that provides an impressive performance to weight ratio. The Cabka Eco CP3 3R has three runners with a static capacity of 2800kg, dynamic load capacity of 1200kg, and a racking load of 250kg. Therefore, it's not only suitable for use in pallet racking, but it also works seamlessly in automated and semi-automated systems.
The Cabka Eco CP3 3R is also made from 100% recycled HDPE, so it's perfect for those businesses prioritising a greener supply chain too.
Sounds impressive, so what about the Cabka Eco CP9 6R?
The Eco CP9 6R has the same dimensions but features six runners. It has the same static capacity (2800kg), a higher dynamic load capacity of 1400kg, and equal racking load of 250kg. It is also an open-deck pallet made from 100% recycled HDPE.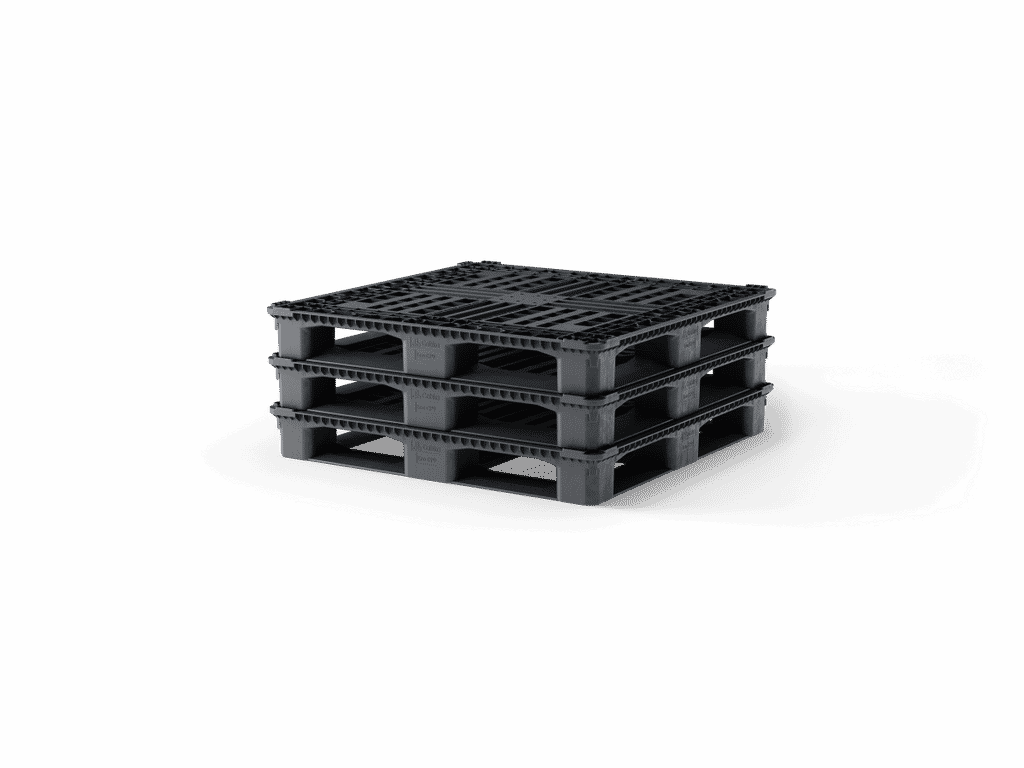 So, who would benefit the most from these products?
While these medium duty pallets have been designed for bulky and oversized items, particularly for those businesses in the manufacturing sector, they're a fantastic multi-use option across any industry. Plus, they're ISPM 15 exempt, which makes them perfect for exportation.
What advantages do these pallets have over wooden ones?
Apart from being ISPM 15 exempt, these pallets have a lifespan of well over 10 years, providing long-term cost savings compared to wooden pallets. Additionally, they are more eco-friendly, representing a sustainable choice for businesses.
We have a long-standing relationship with Cabka. Can you tell us more about this partnership and the industry-leading products they design?
Of course! Our relationship with Cabka extends over 20 years. They stand at the forefront of innovation, and they are dedicated to creating high-quality, durable and eco-friendly products that align perfectly with our own values.
These two new pallets are perfect examples of their inventive approach. Cabka is a key partner in our mission to offer our customers an extensive array of sustainable, high-performance products that fit their exact requirements, and we are always excited to introduce their latest designs to the UK market.
Why is it important for goplasticpallets.com to continuously seek new products that can deliver value to our customers?
In the rapidly evolving world of logistics and supply chain management, it's essential for us to stay ahead of the curve. Our customers have diverse needs, and it's our job to provide them with the right solutions that not only meet their current demands but also anticipate future requirements.
The goal is to help our customers improve their operations, increase their efficiency, and make a positive impact on the environment. That's why innovation and a commitment to continuous improvement are at the heart of what we do.
Finally, for those interested, is there an opportunity to see these pallets in action?
Certainly! We understand the importance of experiencing a product first-hand before making a decision. If anyone would like to see the Cabka Eco CP3 3R or the Cabka Eco CP9 6R in action, we would be more than happy to arrange this. It provides a great chance to appreciate their robustness, versatility, and suitability for various applications. Please reach out to our team at sales@goplasticpallets.com or call us at 01323 744057 to discuss further.
Thanks, Steve!