Large Scale Plastic Pallet Box Delivery
GA Pet Food Partners delighted with large-scale plastic pallet box delivery for automated facility
Goplasticpallets.com has just completed one of its most challenging pallet box deliveries to date, delivering a whopping 19,750 plastic pallet boxes to Europe's leading manufacturer of own label premium dry pet foods, GA Pet Food Partners.
GA approached Goplasticpallets.com looking for a large container that would work seamlessly in a fully automated system that was being designed as part of an enormous new facility being built, representing the pinnacle of the company's development in dry pet food production.
Outside of the GA building showcasing impressive architecture and a modern design.
Making up dry pet food to customers' specific batch requirements ranging from three to 200 tonnes whilst handling many different ingredients is a labour-intensive process. The use of containers within the new, highly-sophisticated automated system would allow GA to cut overheads to operate a much leaner business and significantly speed up the production process.
Having spent considerable time consulting with GA discussing exactly how the containers would be used, Goplasticpallets.com recommended its largest plastic pallet box – the 1400 litre GoPalletBox 1311S 3r measuring 1300mm x 1150mm – which due to its incredible strength is ideal for bulk handling and has a proven track record in automation. The boxes were supplied with lids, which were specially designed for use in the automated process.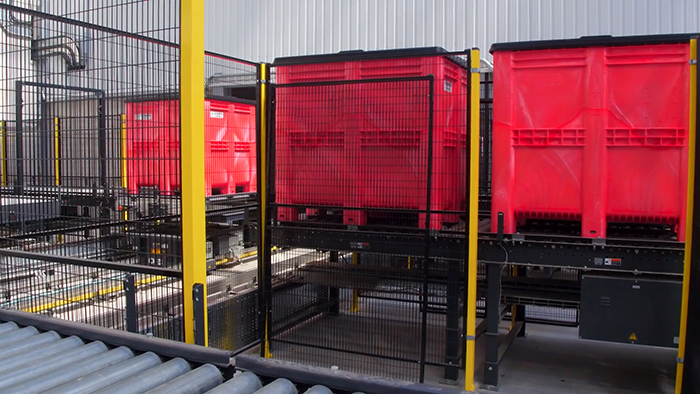 Goplasticpallets.com's plastic pallet boxes in use at GA's new automated facility.
GA ordered 19,750 of the plastic pallet boxes in three different colours; 14,000 in blue for storing finished cooked material, 5,000 in red for storing raw materials and 750 in green for other internal use. Together the boxes offer a tremendous storage capacity of 27.65 million litres – the equivalent of 11 Olympic-sized swimming pools!
During production each box was fitted with a writable RFID tag to record the source of the ingredients and the batch date of the pet food within the container, which would provide GA's customers with full traceability of all raw ingredients.
The admin team at Goplasticpallets.com had a huge task on their hands managing the project for GA both coordinating production with CABKA_IPS, the manufacturer in Belgium, and organising delivery schedules with LKW WALTER, our transport organisation for the Europe-wide full truck loads.
GA ordered 19,750 of the plastic pallet boxes in three different colours – together the boxes offer a tremendous storage capacity of 27.65 million litres.
It was a large-scale logistics operation which started in November 2017 and finished the first week in June, which saw all 19,750 plastic pallet boxes and lids transported by 13.6m articulated trucks – more than 470 individual loads – from the manufacturing plant in Ieper in Belgium to GA's distribution centre in Chorley in Lancashire. Placed end to end, these artic lorries would stretch a distance of 7.802km!
Jim Whittingham, Operations Director for GA Pet Food Partners, said:
"I'm delighted with the service we've received from Ben and the team at Goplasticpallets.com. From my initial enquiry, right through to our final delivery they've been extremely helpful and attentive – keeping us updated on the status of our deliveries."
Ben Messingham, UK Sales Manager for Goplasticpallets.com, said:
"This is a really exciting project to be involved with and over the coming months we look forward to seeing how the plastic pallet boxes have enhanced GA's new automated facility."
For further information about Goplasticpallets.com's huge range of plastic pallets, pallet boxes and small containers visit goplasticpallets.com