New website reinforces Goplasticpallets.com as the 'go to' supplier for all your RTP needs
The shift from wood to plastic pallets has taken another leap forward with the launch of Goplasticpallets.com's new website.
Presenting the UK's widest selection of plastic pallets, pallet boxes and small containers, the new website provides customers with one central destination for all their returnable transit packaging (RTP) needs.
Jim Hardisty, co-founder and managing director of Goplasticpallets.com, said: "We took the decision to combine our plastic pallet and plastic box websites to make it easier for our customers to browse our comprehensive product range.
"Our strong relationships with leading European manufacturers built over many years working in the logistics industry, means we continue to bring the very best plastic pallets, pallet boxes and small containers to the UK market – offering our customers the greatest choice, as well as immediate delivery on stock items.
"It has taken us a while to develop the new site but I'm delighted with the end result and believe customers will find it invaluable to be able to access all our products in one place."
The new website goplasticpallets.com carries the company's new strapline 'Leave the wood. Go plastic.' and distinctive orange and blue branding. Three clearly defined product sections for plastic pallets, plastic pallet boxes and small containers, make it easy for customers to select their desired product and search by size or style.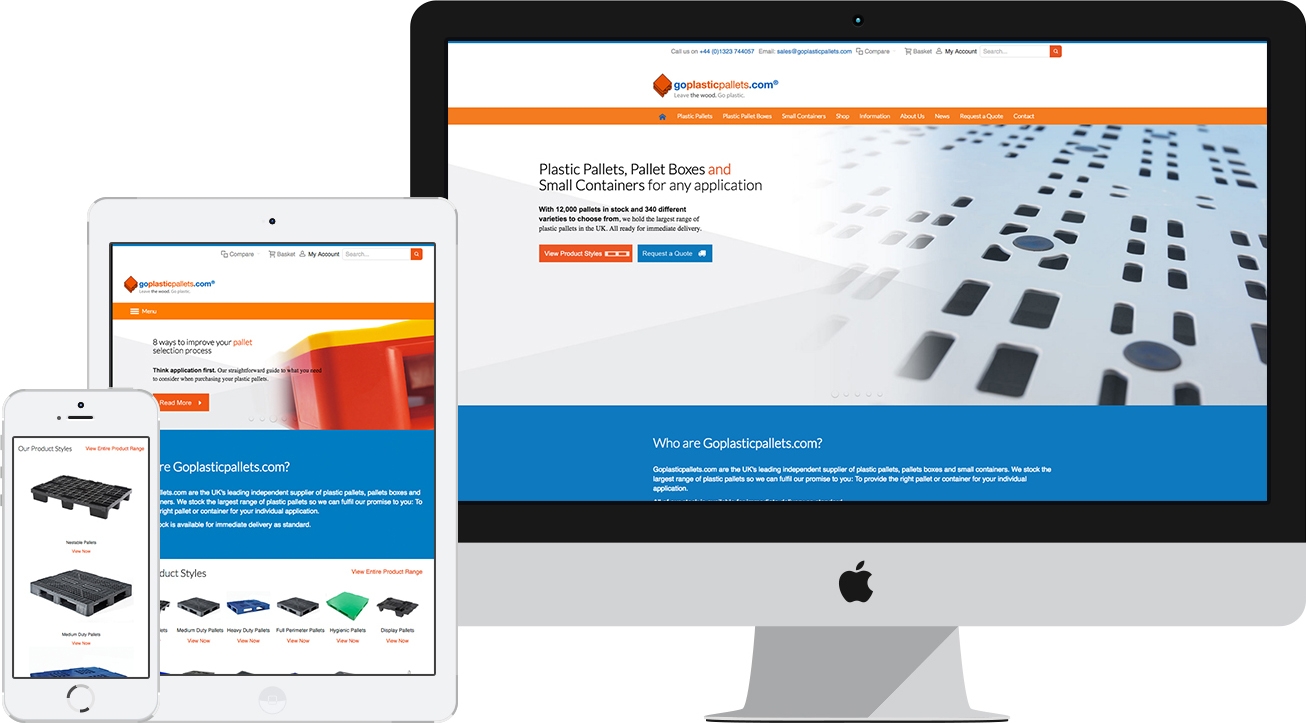 Each product page includes a photo, which customers can zoom to examine products in closer detail, as well as a full data sheet with technical specifications. Customers are then offered the opportunity to 'request a quote' or 'compare' the product to other similar ones – a new feature which has been added to help customers find the best product to fit their application.
Those customers looking to purchase small quantities of general use, entry-level plastic pallets or rigid pallet boxes, can now do so online in the company's 'Shop' section. Products in this section are available to buy in multiples of five up to 20 units.
Did you know Goplasticpallets.com can personalise your plastic pallets and boxes to suit your branding and identification requirements? The new website includes a section explaining all the options available including screen printing, thermal transfer and bespoke colour options.
Jim added: "Our ability to find a product to suit our customers' specifications and then customise it, if required, means we don't limit their choice. Our sales team combined have over 100 years' experience within the logistics industry, so when customers come to Goplasticpallets.com we can guarantee that they'll get both the best product selection and the best quality product advice."
If you would like to speak to one of our pallet experts, call Goplasticpallets.com on 01323 744057 or email us at sales@goplasticpallets.com