Plastic Pallet People: Simon Acott
Welcome to the next instalment of Plastic Pallet People, where we interview one of our brilliant team members. This time, we chatted with Simon Acott, our Logistic Coordinator.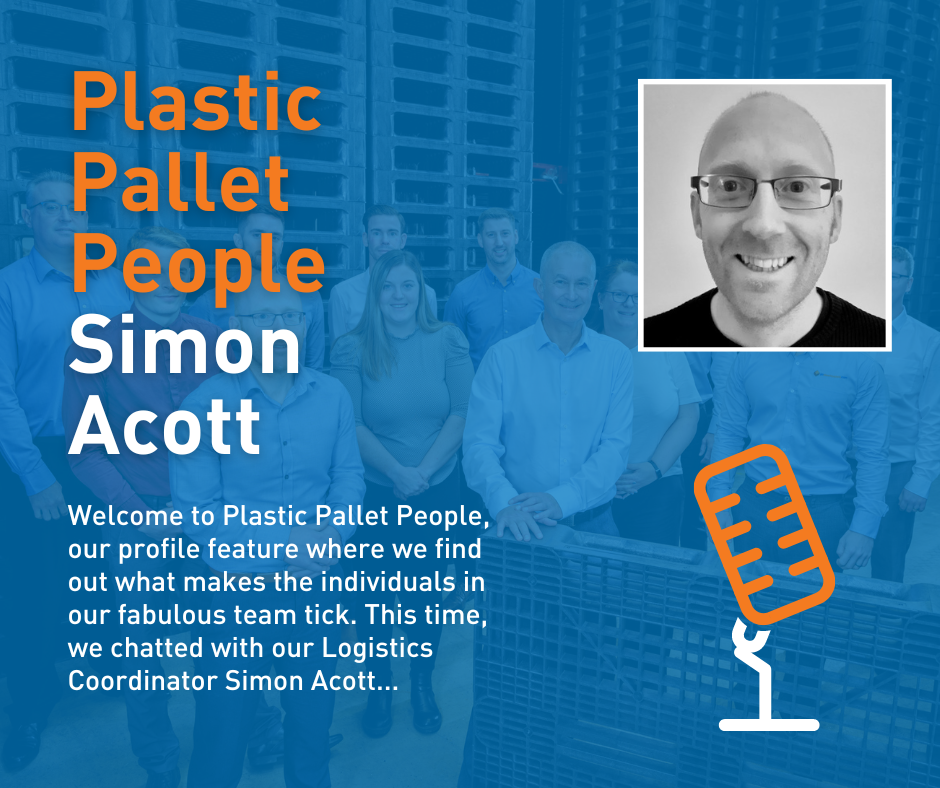 Nice to see you, Simon. We hear you're celebrating an anniversary this month…
That's right! I have now worked at goplasticpallets.com for a year. I have really enjoyed the first 12-months at the company. Everyone has made me feel so welcome. There is a great team ethos here, and everybody has a great deal of knowledge and experience, which helped me to get up to speed quickly.
Tell us what your role of Logistics Coordinator involves?
My main role is to plan, book, and coordinate all the transport for the inbound goods arriving from our European suppliers. I then arrange for these products to be delivered to our customers across the UK, while ensuring stock is accurate and well managed.
I've quickly learnt how important customer service is at goplasticpallets.com. It runs through the entire team and is vitally important in my role as I ensure that our products are delivered to our customers as quickly as possible, while keeping the two-way communications going to ensure they know when to expect their deliveries.
It's an interesting role and there's lots of variety, particularly when working alongside businesses from a wide range of industries, such as automotive, food and agriculture, pharmaceutical, construction, and retail, to name a few.
What initially attracted you to the role?
Having previously worked in the neuroscience industry I was excited by the challenge of working in a new industry and utilising the skills and experience I have built up over the years. Having the opportunity to be involved in the day-to-day operations and logistics of the business was also something that really appealed to me.
So, what has been your highlight in the first year?
I also play a key role in our industry-leading recycling scheme. I'm responsible for planning and coordinating the collections of old plastic pallets and boxes and ensuring they get to our recycling plant in Belgium. Since being launched in 2019, the company has already recycled over 1,000 tonnes of plastic – and the numbers continue to grow. From my point of view, I want to ensure we are ahead of the curve in terms of the planning side of things. Playing an important part in such a valuable initiative is incredibly rewarding. I can only see our recycling scheme going from strength to strength throughout 2023. As part of this, we are committed to recycling all plastic pallets and boxes, regardless of the supplier.
In addition, I have been really pleased with my own personal progression since joining the business last May. Compared to previous roles, I'm now managing a significantly higher number of consignments on a daily and weekly basis – and therefore it is important to be prepared at all times. I have also built an excellent rapport with our customer base, which definitely helps, especially when you have to work so closely together.
Most definitely! So, one year down, where will you be in another five years?
I hope to be playing an increasingly important part in the company's ambitious growth plans. Looking ahead, I am excited to work alongside the team to further improve our processes and efficiencies – and provide the best possible service to our customers. Ultimately, my goal is to take on more responsibility within the company and contribute to its future success.
What is the working environment like at goplasticpallets.com?
The company clearly values its employees and encourages a positive work-life balance, whilst also focusing on personal and professional development. Employees are encouraged to work together across different departments, creating a supportive and friendly atmosphere. As mentioned above, the business also places a strong emphasis on sustainability, which I admire.
What three words would your colleagues use to describe you?
Haha – I guess "friendly", "reliable" and "dependable". I know the last two words mean essentially the same thing, but you have to have those skills as a Logistics Coordinator!
Do you have a favourite pallet or pallet box?
I would have to choose something out of the ordinary – maybe one of our foldable sleeve packs like the CabCube 1210 9F 2.0. I love innovative products that deliver real benefits. Plus, as a Logistics Coordinator, I'd have to choose a pallet box that offers significant space-saving advantages, reduces transportation costs and improves logistics efficiency!
What advice would you give to a newcomer to the industry?
My advice to a newcomer to the industry would be to stay curious and be open to learning. Logistics is a complex and constantly evolving field, so it's important to stay up-to-date with the latest developments and best practices. I would encourage new arrivals to take the time to understand their company's operations, learn from their colleagues, and ask questions when they're unsure.
In an operations role, it is vital that you remain organised and focused on the job in hand. Plans can be changed or disrupted to any number of things outside of your control – from a blown tyre or roadworks, to industrial action or adverse weather. You must be adaptable and think strategically at all times.
So, what do you like to do outside of work?
I really enjoy playing hockey and I try to play most weekends during the season. Away from the astro-turf, I love exploring the Sussex countryside with my Toy Poodle.
Sounds perfect. Thanks for your time, Simon…