Selecting a Plastic Pallet or Plastic Box for Retail
Whether you require a plastic pallet or plastic box for your point of sale displays or for the transportation and storage of food and clothes, we have the solution to your retail needs.
We have handpicked a selection of plastic pallets, pallet boxes and plastic containers to help guide you in finding the right solution for your retail application.
Every application is unique, so whilst these pallets and boxes will give you some food for thought, it is always worth discussing your needs with one of our experts, who will help you to find the perfect solution.
Display Plastic Pallets
Display plastic pallets are ideal for point of sale displays in supermarkets and other retail outlets.
One of the key benefits of display plastic pallets is that products can be transferred directly to the shop floor and therefore do not require unpacking. As such, there is an environmental saving due to the minimum packing waste generated.
Point of sale displays encourage impulse buying making them the ideal solution for the transportation, storage and display of products.
The Cabka-IPS Nest M1 4F is our smallest and the first plastic pallet at one-eighth size on the market. It provides the perfect solution to point of sale displays when space is at a minimum.
At the other end of the spectrum we have the SF 6080 Pool Closed Deck 3R which is a robust and heavy duty plastic pallet measuring 800mm x 600mm. Not only ideal for POS but also repeat use within a pallet pool.
Nestable Plastic Pallets
Nestable plastic pallets reduce transportation costs due to being nestable. When empty they can also be stacked up to 50 pallets high.
They are specifically designed for lightweight applications where loads are evenly spread from 500kg up to 1,000kg.
Like the Cabka Nest M1 4F, the Qpall 6080 OD 6F nestable pallets also doubles as a display pallet. As a half-euro pallet, it conforms to full European regulations and is perfect for the import and export of goods across Europe.
Euro Plastic Pallets
Euro plastic pallets provide a reusable solution for the transportation of goods across Europe. They are also perfect for use in supply chain and automation.
The APB 1208 Pool Open 3R is a 'euro size pallet'. Super strong and long lasting, this euro plastic pallet is ideal for repeated use in retail supply chains.
Being heavy duty and incredibly durable, the APB 1208 Pool Open 3R is well equipped to tackle large load capacities and can hold a 4000kg in a static load and a 2000kg in a dynamic load.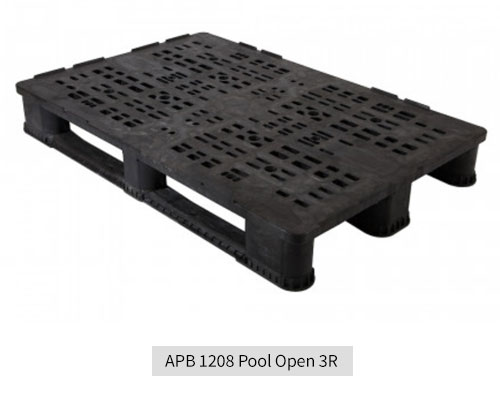 Folding Large Containers
Folding large containers collapse when empty, offering space and fuel savings on return journey transportation of goods. They also offer excellent internal capacity and are very sturdy, so won't collapse during use.
If you are looking to transport large volume parts, especially automotive, then the CabCube 2.0 ticks all of the boxes. With its robust sleeve and a unique, injection moulded closed base and lid for supreme strength, this pallet box can really go the distance.
At 20kg lighter than traditional thick sided folding pallet boxes, the CabCube 2.0 also has ergonomic handles on the lid for easy lifting. It is also easy to assemble, collapse and stack. And with rain water drainage holes, you can also ensure that the contents stay dry.
The customised sleeve height and door configuration, make the CabCube 2.0 the ideal solution for transporting and displaying products.
The GoFLC975-2 is perfect for use within retail. It is long lasting and durable, even in the most demanding environments. This folding large plastic container comes into its own when you have overlength items that you need to display as they can easily stand in the massive 1200mm x 1000mm x 975mm crate.
Stack and Nest Plastic Box
Stacking and nesting plastic boxes and crates provide both financial and space savings.
They are the ideal solution for harvesting fruit and vegetables, in-store display and delivery. When empty they can be nested inside each other or when full, they can be stacked to allow more goods to be transported in one trip, which then saves fuel costs.
Our Bi – Coloured stack and nesting containers like the GoS&N 64200P Blue and GoS&N 64200S Red have smooth and straight walls for large internal holding and ease of cleaning.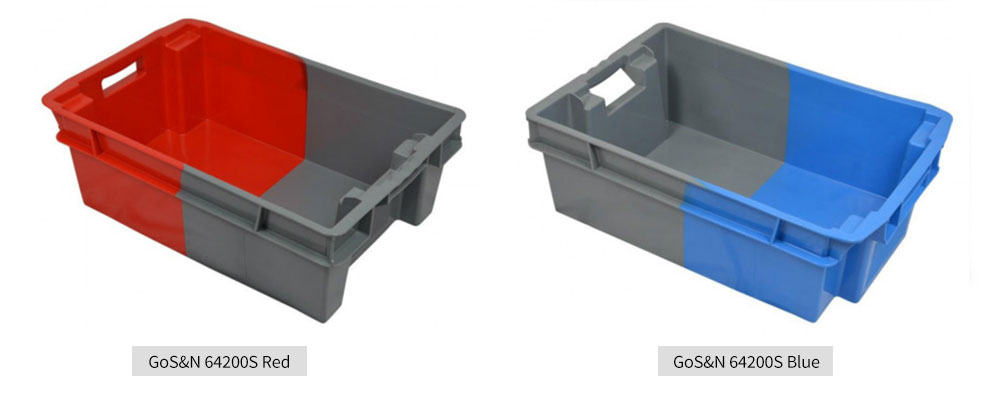 You can browse a selection of our plastic pallets, pallet boxes and small boxes for retail here. Alternatively you can call us on  +44 (0)1323 744057, email sales@goplasticpallets.com or use the chat function below.