10 interesting ways to use a plastic pallet box
Plastic pallet boxes have proven to be the best way to store and handle such a diverse range of goods over the last 10 years. Their uniform size, large internal capacity, solid easy-clean base and side walls, and long service life are just a few of the reasons why so many customers choose plastic pallet containers in preference to other storage solutions.
In this article, the UK's plastic pallet experts Goplasticpallets.com recount 10 different applications where their plastic pallet boxes have excelled in recent years, which highlight why they are the 'go to' supplier for all your handling and storage needs.
1. World's Largest Kite
The Kuwait-based Al-Farsi Kite team, who holds the Guinness World Record for flying the largest kite, approached Goplasticpallets.com looking for a storage container suitable for transporting its 1000+ square meter kites around the world.
As the kites are incredibly delicate, wooden pallet boxes were not an option, as they are nailed shut, creating splinters that can catch on the fabric. The team also required a product that would withstand the harsh handling conditions – tipping, climbing on and exposure to the elements.
Goplasticpallets.com recommended its 1400 litre plastic pallet box, the GoPalletBox 1311S 3R Blue. Not only did it offer the kite team the large storage capacity it needed, but its smooth insides ensured the kites remained snag free!
2. Dry Pet Food
One of Goplasticpallets.com's most challenging projects to date was supplying a whopping 19,750 plastic pallet boxes to GA Pet Food Partners. This leading European manufacturer of own label premium dry pet foods needed a large storage container suitable for use in its new state-of-the-art automated production facility.
After a lengthy consultation period, Goplasticpallets.com again recommended its 1400 litre GoPalletBox 1311S 3R measuring 1300mm (L) x 1150mm (W) x 1250mm (H) – which due to its incredible strength is ideal for bulk handling and has a proven track record in automation.
The plastic pallet boxes were supplied with lids in three different colours so that the different ingredients could be quickly identified. In total the 19,750 boxes offered a tremendous storage capacity of 27.65 million litres – the equivalent of 11 Olympic swimming pools!
3. Zoo Animal Feed
When the Zoological Society of London was looking to replace its wooden pallets and dustbins with a strong and durable container suitable for moving and storing animal feed (browse, branches and leaves), Goplasticpallets.com recommended its GoPalletBox 1210S 3R Blue. This 610 litre plastic pallet box with solid walls on three runners offered both the large volume storage required and excellent performance in rigorous handling scenarios.
ZSL currently has 40 of these plastic pallet containers in use and they have been a roaring success. ZSL London Zoo Site Manager, Jamie Turner, said: "The reusable plastic containers supplied have helped our teams operate more efficiently across our 36-acre site. They're incredibly durable and effectively store our large browse ready for feeding time at the zoo."
4. Fishing Gear
Goplasticpallets.com was approached by local fishermen in its hometown of Eastbourne who were seeking storage containers that were both big enough to hold all their fishing equipment and completely weather resistant, as they would be stored outside.
For this application the company's GoPalletBox 1311S 3R Black was the ideal choice. As the largest plastic pallet box available in Europe, it provided both ample storage and an all-weather resistant solution due to its smooth easy-clean base and side walls.
Speaking about the 100 plastic pallet boxes ordered, third generation Eastbourne Fisherman Graham Doswell, said: "In order to develop the site at Fisherman's Quay in Sovereign Harbour, Eastbourne, we needed to tidy up the area, and the plastic pallet boxes have allowed us to do just that. We've purchased a second-hand forklift telehandler to help move and stack the boxes, which can stack up to eight high, which is ideal to maximise space for the development."
5. Sports Drink Preforms
When the Olympic Games came to London some eight years ago, Goplasticpallets.com teamed up with rigid plastic packaging specialist Logoplaste to provide a storage solution for a global pharmaceutical giant, responsible for producing annually close to one billion bottles of a 'popular' sports drink.
A durable and hygienic container was required for the automated manufacture of bottle preforms – each container needed to be capable of holding up to 20,000 units.
Again, Goplasticpallets.com's GoPalletBox 1311S 3R Blue with lids provided the ideal solution here with its washable surfaces and generous 1400 litre capacity. Some slight modifications were made to the 2,000 plastic pallet containers and lids ordered to ensure that they could be stacked securely up to five boxes high. They were then delivered in 48 trailer loads to the customer's tight delivery schedule.
6. Power Cables
Another Olympic achievement for Goplasticpallets.com was supplying plastic pallet containers for the storage and movement of power cables during the 2018 Winter Olympics in South Korea.
High quality and high-performance power cabling is a necessity for major sporting events in order to provide a consistent and reliable power supply. Many different types of power cables are needed for such prestigious events, from cables to power generators to those for audio visual equipment. If not stored carefully, different cable types can easily get mixed up or in the worst case become entangled, which can be a time consuming and costly problem to sort.
The plastic pallet containers that Goplasticpallets.com supplied provided the perfect solution – durable, efficient and secure storage on the go!
7. Potato Handling
In the last couple of years, Goplasticpallets.com has witnessed increased adoption of automation in the UK potato industry, much of this based around systems developed and implemented by Deprez Handling Solutions using its 1400 litre plastic pallet box, the GoPalletBox 1311S 3R.
These plastic pallet boxes are currently being used for the sorting and storage of potatoes. After harvesting and washing, the potatoes are sorted by an optical sorting system according to their size and placed in the boxes, which are then either automatically stored in high bay racking or forwarded directly to the packaging line. With subsequent use, a system-integrated orbiter box tipper automatically empties the boxes into the corresponding packaging lines.
Johan Deprez, Founder and CEO of Deprez, said: "Our solution would simply not exist in this form without the plastic pallet box. Now, whenever we plan an automated solution for a new customer, we recommend it; in fact, we've already implemented 30 installations with this pallet box."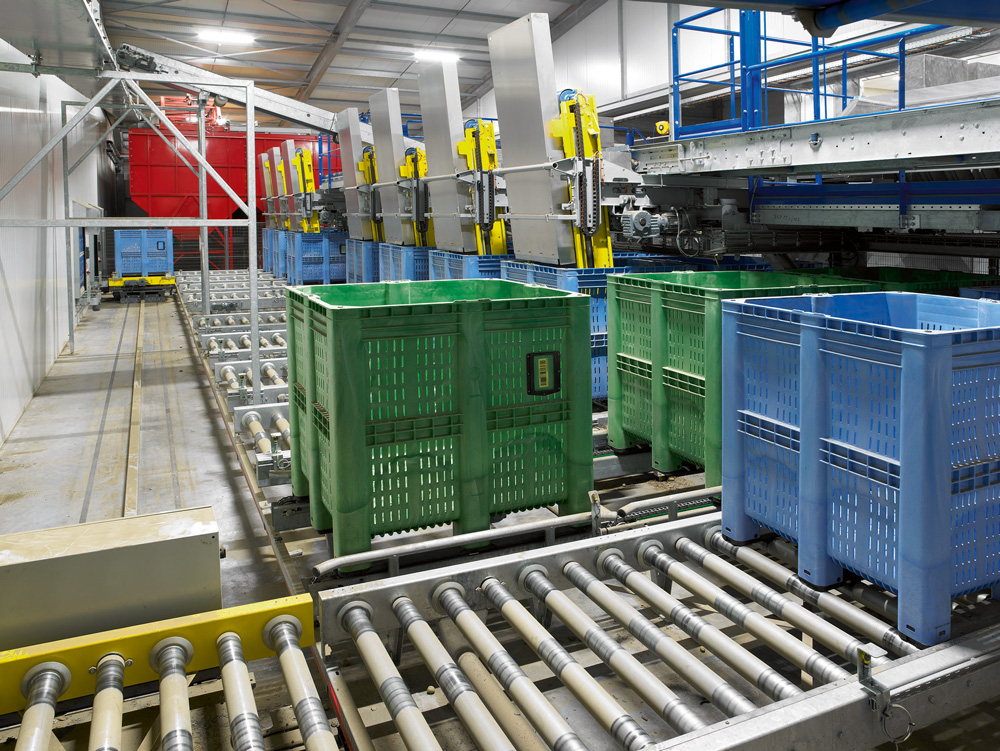 8. Seal Pup Rescue
Goplasticpallets.com's plastic pallet boxes have even come to the rescue of seal pups!
Several years ago, the company donated two plastic pallet boxes to the British Divers Marine Life Rescue charity to be used as pens in a new holding unit created for the care and treatment of seal pups found malnourished, separated or injured.
9. Production Studios
Production studios require durable, easy-access storage for a whole host of items from props and costumes to power cables and lighting equipment. One British film and television studio has been a customer of Goplasticpallets.com for several years. Here the company's robust CabCube 1210 9F 2.0 sleeve pack provides both effective storage and efficient access to items stored within, thanks to its drop down door.
The CabCube is not a traditional plastic pallet box but rather a three-part sleeve pack system offering a large storage capacity of 875 litres, composed of a strong injection moulded base on nine feet, a thick foldable sleeve and a durable plastic lid. When not in use, the CabCube can be neatly stored away since the sleeve folds down flat and sits upon the pallet base and the lid fits securely on top.
10. Christmas Decorations
We can't be without them, but they only get used once a year, so what do you do with Christmas decorations once the festive season is over? This is a conundrum Goplasticpallets.com has found many customers are faced with and they have the ideal solution – their large plastic pallet boxes!
From Christmas trees, wreaths and lights to grand displays, Goplasticpallets.com has seen their plastic pallet boxes used for all of this and more!
For all your storage needs, from the traditional to the extraordinary, contact our expert team today on 01323 744057 or email your enquiry to sales@goplasticpallets.com.
Watch and share the video
10 Interesting Ways To Use A Plastic Pallet Box from Goplasticpallets.com on Vimeo.
Plastic pallet boxes have proven to be the best way to store and handle such a diverse range of goods over the last 10 years. Their uniform size, large internal capacity, solid easy-clean base and side walls, and long service life are just a few of the reasons why so many customers choose plastic pallet containers in preference to other storage solutions.