Enhanced plastic Euro pallet outperforms its wooden rival
As more companies automate their materials handling and storage operations, the need for reliable pallets that can go the distance has never been greater. With Goplasticpallets.com's enhanced plastic Euro E7 pallet, it's 'all systems go' thanks to its seamless integration with automated handling systems.
The enhanced plastic Euro E7 pallet offers all the advantages of a classic wooden Euro-pallet whilst guaranteeing better performance and large potential savings in automated operations, where they are already being successfully deployed for a number of heavy line retail applications.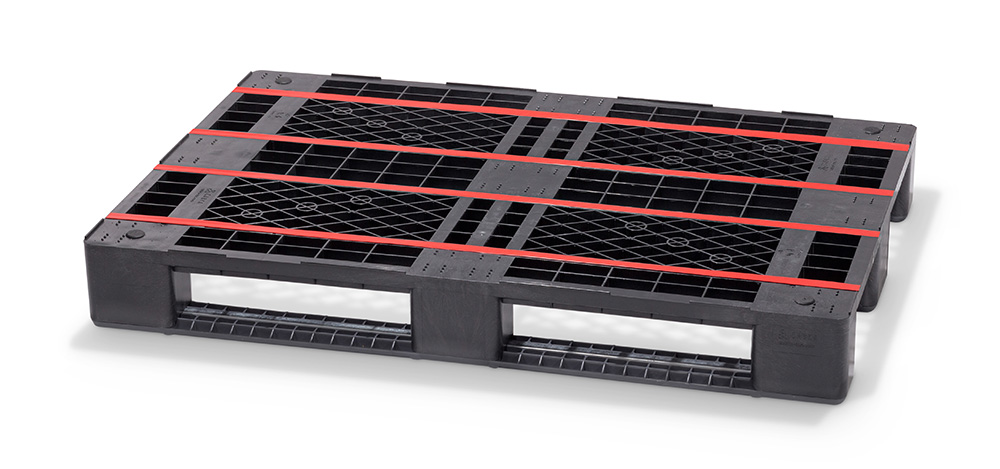 In a recent study from Virginia Tech University based on an industrial survey, more than half of the 259 respondents admitted to pallet-related issues with automated equipment occurring on a daily or weekly basis, largely as a result of poor quality or damaged wooden pallets.
Commenting on the study Jim Hardisty, Managing Director for Goplasticpallets.com, said: "When companies are looking to invest in automated equipment, pallets are often the last thing they consider. As pallet quality can have such a major impact on operational efficiency in automated handling scenarios, it's crucial that pallets are considered much earlier on in the purchase process."
One of the major benefits of Goplasticpallets.com's Euro E7 pallet is that is has the exact dimensions of a wooden Euro-pallet – measuring 1200mm (L) x 800mm (W) x 144mm (H) – so it can be easily integrated into automated systems that have already been customised for wooden pallets. Yet, unlike a wooden pallet made from loose component parts and nails that can hamper automated systems, the Euro E7 is moulded from high-quality HDPE plastic, which guarantees 100% dimensional accuracy therefore eliminating machine disruption and operational downtime.
This means that the plastic Euro E7 pallet can run in a conveyor system parallel to existing wooden pallets without any need for adjustment, equally, it can also be used as a shuttle for any defective wooden pallets.
The plastic Euro E7 pallet comes on three runners with steel bars in the deck for enhanced strength and stability – even with the heaviest loads. When static the pallet can bear a tremendous 5000kg, whilst on the move it can support 1500kg and 1250kg in racking.
Red anti-slip strips and stoppers are a standard feature of the plastic Euro E7 pallet, but there are also several options to customise the pallet to suit different applications. Up to seven optional steel supports in a range of profile thicknesses make it possible to customise the load-bearing capacity of the pallet. RFID tags can also be added for more accurate tracking and transparency. As standard the pallet comes in black with red anti-slip strips with or without lips, but for orders of 500+ units other colour options are available, as well as printing of a company name or logo.
In terms of investment, a wooden Euro pallet is approximately a third cheaper than the plastic Euro E7, however taking into account the long service life of the plastic pallet and low follow on costs, in the mid to long term companies can achieve significant savings. These include lower transport costs thanks to its low net weight of just 16kg, lower repackaging costs, lower cleaning costs thanks to the pallets easy-to-clean hygienic surfaces and less process downtime.
In addition, like all of Goplasticpallets.com's plastic pallets, the Euro E7 pallet retains its material value at the end of its operational life, when it can then be 100% recycled and turned into a new, long life pallet.
Call our pallet experts on 01323 744057 for more information about our Euro E7 pallet, alternatively email your enquiry to sales@goplasticpallets.com.