Best-selling plastic pallet box now available in recycled material
Goplasticpallets.com, the UK's leading independent supplier of plastic pallets, pallet boxes and small containers, has added a new recycled pallet box to one of its most popular ranges.
The GoPalletBox 1210 range, which is used across a range of industries and in a plethora of applications, now features a black version made entirely from 100% recycled plastic.
The new recycled plastic pallet box still offers all the exceptional benefits of the original range but gives customers a greener and more sustainable choice for their operations and is exempt from the new Plastic Packaging Tax that came into effect on 1st April.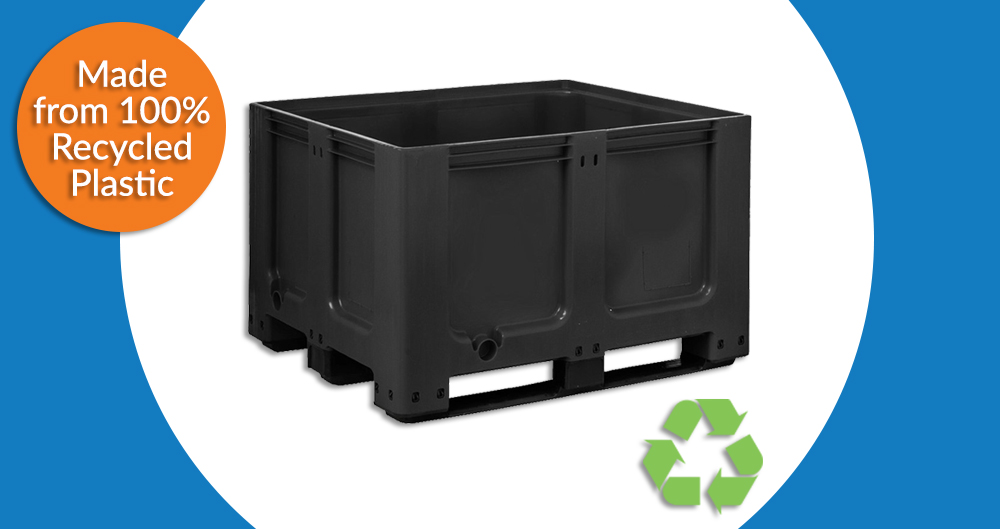 The GoPalletBox 1210S 3R Black is a more cost-effective model and is available on a footprint of 1200mm(L) x 1000mm(W) x 760mm(H), has a solid base and sides, offers an enormous volume of 610 litres, and comes on three runners.
This robust and rackable solution is perfect for bulk handling and storage of goods in a diverse range of applications including food production, engineering, automotive, brewers, retail, and printing. It is also ideal for collecting and recycling different types of waste materials such as food and single-use plastic.
Jim Hardisty, Managing Director of Goplasticpallets.com, said, "We're delighted to extend one of our best-selling ranges to include this new model made from 100% recycled material.
"Our new GoPalletBox 1210S 3R Black can be used time and time again for many years and will never go into the waste stream because it is fully recyclable at the end of its long working life.
"Here at Goplasticpallets.com, we are committed to increasing the range of plastic pallets and plastic boxes made from 100% recycled material and providing our customers with products which immediately catapult them to the start of the circular economy wheel."
Goplasticpallets.com is committed to reducing plastic waste, and through its pioneering recycling scheme, the company promises to take back all of the plastic products it supplies so they can be turned into the next wave of reusable plastic solutions.
The GoPalletBox 1210S 3R is available direct from stock for immediate delivery.
To find out more or request a quote, please call Goplasticpallets.com on 01323 744057 or email your enquiry to [email protected].