Plastic Pallet People: Steve Penney
In the latest Plastic Pallet People, we sit down for a chat with Steve Penney, our cricket-loving UK Key Account Sales Manager – we ask him all of the important questions, including about his favourite products.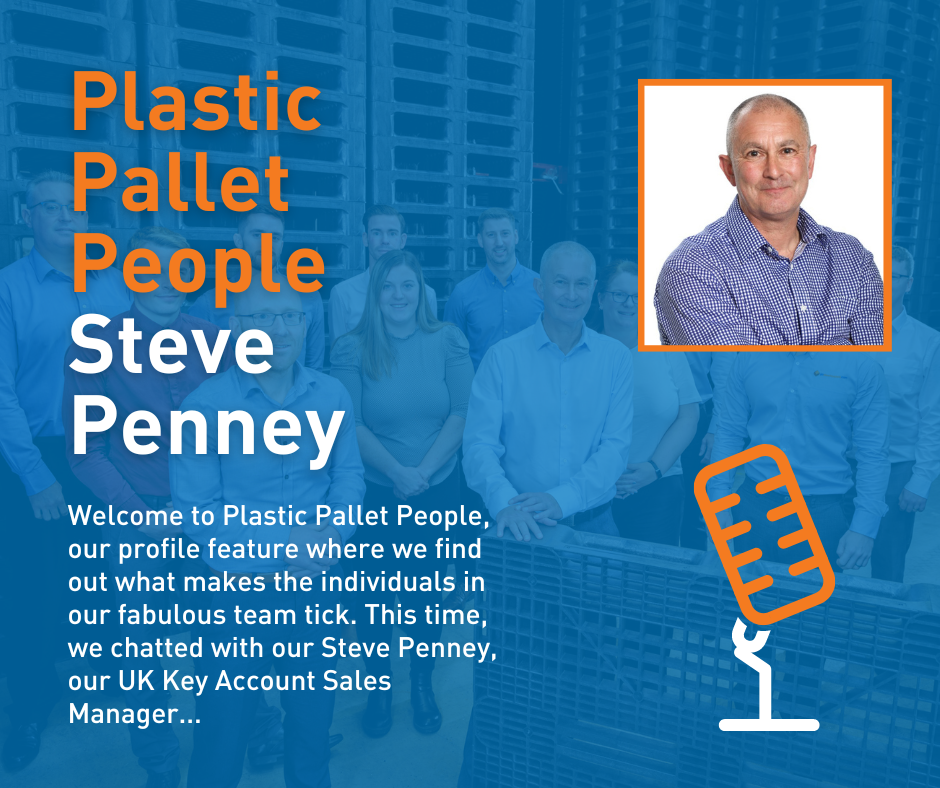 Hi Steve. Thanks for your time. Could you tell us a little about your role?
Of course. I'm UK Key Account Sales Manager at goplasticpallets.com. A key part of my role is to understand the evolving needs of our customers and to sell them the best products to address those needs. I have an extensive knowledge of different products, so I'm always on call to help with any technical questions or issues.
I also help the marketing team; letting them tap into the knowledge I have acquired over the years, and supporting them with the creation of any articles and adverts. I also enjoy promoting the business externally wherever I can. For instance, I recently delivered a presentation at an online event, exploring the benefits of sustainable pallets.
However, my favourite part of the job is introducing and selling new products – and then watching those solutions deliver a true return on investment for our clients.
How long have you been at the company?
I have been at goplasticpallets.com for almost three years now. I joined just before the pandemic, which was obviously a very challenging time for everybody involved. As a business, we adapted quite quickly and were able to continue supplying essential businesses, including those across the food and pharmaceutical sectors. In fact, some of the components for the vaccines were shipped on our pallets.
Fantastic. What attracted you to the role?
I have known Jim (the Managing Director) for many years and goplasticpallets.com has always been a company I admired from afar, so when I got the chance to join the business, and to play an important role in its future, it was an easy decision for me.
I was impressed by the company's market position and its diverse range of products. I also appreciated the businesses' commitment to sustainability, which aligns with my personal values.
Can you give us an overview of your extensive experience in the industry and how it led to your current role in the company?
My first foray in the materials handling industry was at the age of 24 at Perstorp Plastic Systems. I started as a field-based Sales Rep travelling around South Wales and the West Country. Over the years, I've worked with several manufacturers, gaining invaluable experience along the way. My career path hasn't always been a straight line, though. After leaving school, I completed a domestic refrigeration and washing machine apprenticeship and even ran a sports shop at one point!
Over the years, I've worked in various roles, from managing distributor orders and addressing customer service queries, to overseeing key accounts and launching new products. Each of these experiences has honed my skills and guided me to where I am today.
Could you share more about your favourite aspects of your job and why they appeal to you?
My role is indeed multi-faceted, which is one of the things I love about it. No two days are the same.
At heart, I'm a product person. The prospect of working with new products, figuring out their unique selling points and successfully selling them – that's something that never fails to excite me. I find it particularly fascinating when we have the chance to adapt a standard product to meet a specific customer need or to fit a new application. There's a certain satisfaction in finding those perfect solutions that both serve our customers and push the boundaries of what our products can do.
I split my time between our Eastbourne office, my home office in Oxfordshire and travelling across the country to meet face-to-face with our clients. I certainly missed doing that during the pandemic.
Can you share a key significant achievement in your career so far?
Back in the late 1990s, I secured a massive order of 10,000 plastic pallets for Kuehne+Nagel. This project was one of the first major conversions from wood to plastic pallets in the UK. The client chose plastic pallets because they were more sustainable, process-driven, and provided the consistency they needed for washing and reusing crates. It was a complex project with many factors that could influence its success, but it turned out to be a classic successful conversion project.
Out of all the products you sell, do you have a favourite?
I'd definitely choose our foldable sleeve packs, which are versatile, lightweight, sustainable and economical. They have grown in popularity over recent years, as more companies look to maximise space and save costs during transportation, as well as in the warehouse. For instance, many of our sleeve packs require 40% less space on trucks and in storage, compared to metal containers.
They are truly innovative and designed to boost efficiency across the supply chain. The sleeve itself is the star of the show. Every time I have demonstrated these products, they have received a fantastic response.
What do you enjoy doing in your spare time?
I spend a lot of time outdoors, mainly cycling, both off-road and on-road. I enjoy long walks in the countryside with my wife Sarah and our dog Lexi. I also work out at the gym three times a week and do a couple of spin classes. I come from a sporting background, having played county level hockey as a child. I also love cricket, so I'm looking forward to watching the last two Ashes tests – the series is delicately poised.
It sounds like you stay very active. Do you have a favourite holiday destination?
We usually vacation in the UK because we like to take Lexi along. We often go to the Lake District and Pembrokeshire. As for Lexi, she's a rescued Parsons Terrier, a long-legged Jack Russell, and we've had her for 12 years.
Wonderful. Thanks for your time, Steve.