Plastic Pallet Sizes – what's right for you?
A Quick Guide to Plastic Pallet Sizes
The application, and type of task that you wish your pallet to undertake, will be a determining factor in the plastic pallet size, along with pre-set factors, such as racking or automation systems.
Additionally both the weight and size of the goods that you are transporting or storing will be a contributing factor in finding the right plastic pallet size. For example, if you are shipping four 45 gallon barrels, then these are normally loaded in fours, on a 1200mm x1200mm plastic pallet, but if you are shipping to mainland Europe, then clients will normally request that you use 1200mm x 800mm pallets.
Confused? Read on or drop us a line at sales@goplasticpallets.com call +44 (0)1323 744057 or use the chat function below and we will help you find the perfect plastic pallet size for your requirements.
Standard Plastic Pallet Sizes
Just as the number of jobs that a plastic pallet is capable of doing are many, so are the sizes.
There are standard plastic pallet sizes and then there are of course the few bespoke plastic pallets that are designed and manufactured for very specific requirements and certain industries. We stock a huge range of plastic pallet sizes to cover every possible application and during a simple phone call our experts will be able to ascertain what is right for you.
There are 6 ISO approved plastic pallet sizes. That's not to say that there aren't more plastic pallet sizes, but these are the standardised sizes and the locations in which they are most commonly used. As we mentioned in Our Guide to Euro Pallets, there are even more specific sizes of plastic pallets per region, but this will give you an idea of selecting your plastic pallet by location.
| | |
| --- | --- |
| SIZE | LOCATION |
| 800 x 1200 | ISO1, for Europe, a size that fits the majority of doorways |
| 1000 x 1200 | ISO2, for Europe and Asia |
| 1067 x 1067 | For Europe, North America and Asia |
| 1219 x 1016 | For North America |
| 1165 x 1165 | For Australia |
| 1100 x 1100 | For Asia |
Our Plastic Pallet Sizes
With over 72,000 plastic pallets, pallet boxes and trays and containers in stock and ready for next day delivery, we really do have all of your requirements covered.
We have a range of sizes in our catalogue, from the smallest 400mm x 300mm Nest M1 4F to the largest 1400mm x 1400mm APB 1414 L 2R.
Most Popular Plastic Pallet Sizes
1200mm x 1000mm Plastic Pallets:
One of our most popular plastic pallet sizes is the 1200mm x 1000mm pallet, which is widely used by 90% of UK Companies. From the Cabka-IPS CPP 110 PE 9F, which is ultra-lightweight, strong, economical and able to transport heavy loads over long distances to the Qpall 1210 HR 5R, which is a heavy duty, seriously strong plastic pallet. Both are designed for various applications across a range of industries and are made from recycled plastic.

Cabka-IPS CPP 110 PE 9F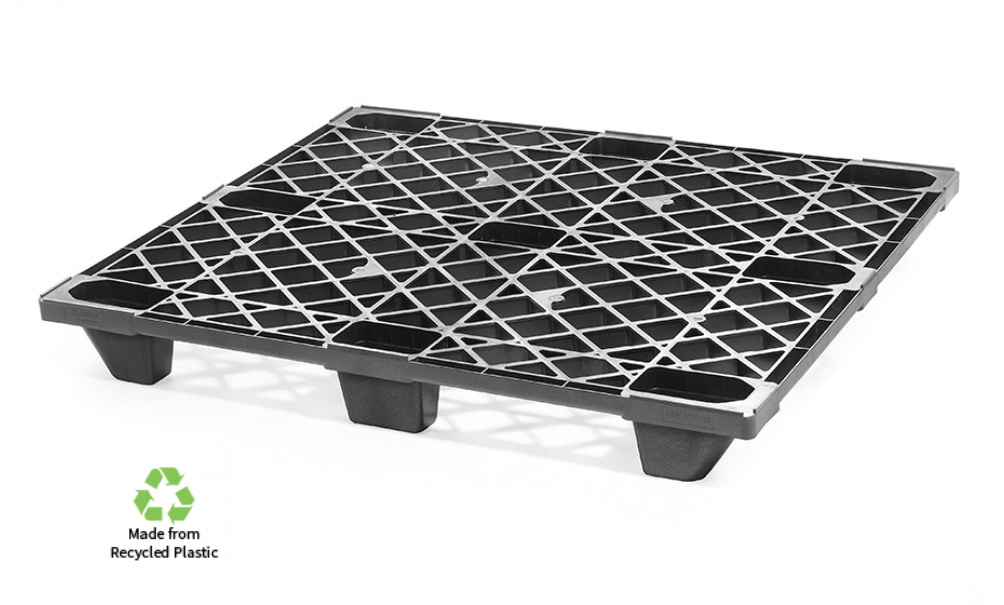 1200mm x 800mm Plastic Pallets:
The 1200mm x 800mm, otherwise known as a Euro size plastic pallet, is the second most popular plastic pallet size as they are used for the import and export of goods across Europe. The two top selling plastic pallets in this size range are the APB 1208 LSO and APB 1208 Pool Perforated pallet. The APB 1208 LSO has a strong and rigid deck, and is nestable in stacks of 40, to save space, whereas APB 1208 Pool perforated pallet is a heavy duty, non-perimeter, open deck euro pallet on three runners, designed for use in racking, up to 1000kg. Both are made from recycled plastic and as you'd expect, comply to full European regulations.

APB 1208 Pool Open 3R
1200mm x 1200mm Plastic Pallets:
The Qpall 1212 HR 6R and the APB 1212 Pool Open and Closed 6R are incredibly popular 1200mm x 1200mm plastic pallets. Both are heavy duty, full perimeter and on 6 runners. They are popular for storing and transporting large bags and bulk drums.

Qpall 1212 HR 6R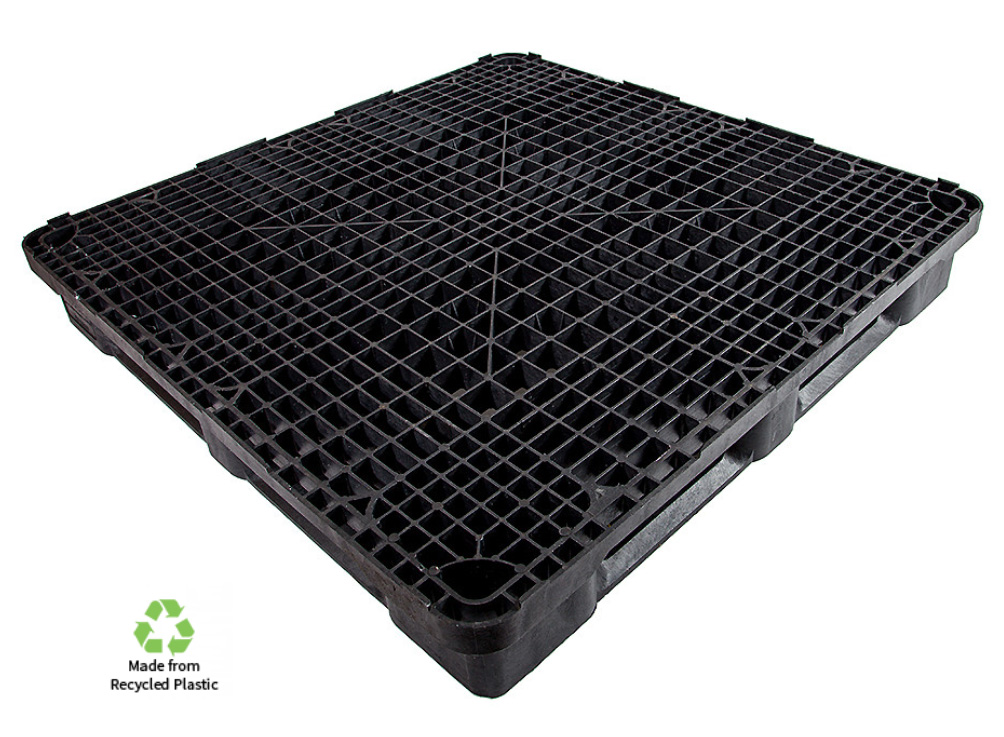 1140 x 1140mm Plastic Pallets:
Another specific size, widely used in the chemical industry and often used for shipping container loading is the 1400mm x 1400mm plastic pallet. Two sit comfortably side by side and both maximise and simplify container loading. Specific models here are Qpall 1140L 9F, a nestable version, the Qpall 1140 M6R, a medium duty full perimeter version, and the ultimate APB 1140 Pool Open 6R, the most heavy-duty version.

APB 1140 Pool Open 6R
Still not sure what size of plastic pallet you need? You're not alone and that is why we, the original plastic pallet experts have been on hand since 2001. With over 100 combined years experience, we know which plastic pallet is right for your needs.
Drop us a line at sales@goplasticpallets.com call +44 (0)1323 744057 or use the chat function below and we will help you find the right plastic pallet size for your logistics needs.