Pallet rental: Are you getting added value?
Renting versus buying plastic pallets has been a long-debated topic. When sourcing a plastic pallet, the decision to rent or buy is one of the most important decisions a business has to make, as the outcome can significantly impact your bottom line. Yet so many times we see businesses choosing the rental option, where buying plastic pallets makes much better financial sense.
Pallet rental can often appeal to businesses at the outset as there are no large upfront costs and rental charges can be set against tax liabilities, providing efficient use of company funds. But pallet rental normally implies you are getting an 'additional service' and added value which is not always the case.
Businesses sending plastic pallets to hundreds of different UK and Europe-wide locations using a 3PL are often the ones that make best use of this additional service, which might include pallet tracking, pallet storage, management of goods in transit and intensive washing prior to reuse. But we find businesses renting plastic pallets that remain captive in a warehouse or transit between only a few locations, which makes no sense at all.
In this scenario owning and managing your own plastic pallet pool is by far the most cost-effective solution.
Buying plastic pallets: when pallet ownership makes sense
So, when should a business opt to buy plastic pallets rather than rent? The simple answer is if you have no need for the 'additional service' that comes with renting. For instance, where you are using plastic pallets internally, or between a limited number of locations, or where you are able to charge a returnable deposit – purchasing plastic pallets will always be more cost-effective in these scenarios as you are not paying for a service you don't need: a service that provides a huge revenue stream for rental companies.
Take our major UK retailers for example. Most retailers need pallets to use internally within their warehouses and are often renting pallets with the perception that it is cheaper than buying. A leading hardware retailer we recently spoke to currently has 40,000 rental pallets which never leave their warehouse. Products are picked from the rental pallets and sent direct to a large number of small local depots, but the pallets remain captive with no additional service; they are never washed or repaired, yet the retailer faces horrendous rental charges day in, day out.
Another customer we were approached by – a UK manufacturer of breakfast cereals – were faced with a similar scenario. For the last five years they have had 1500 pallets on hire, but they never leave their premises. This manufacturer has been paying full on rental costs, purely for the use of the pallets themselves with none of the benefits and added value you would expect from renting.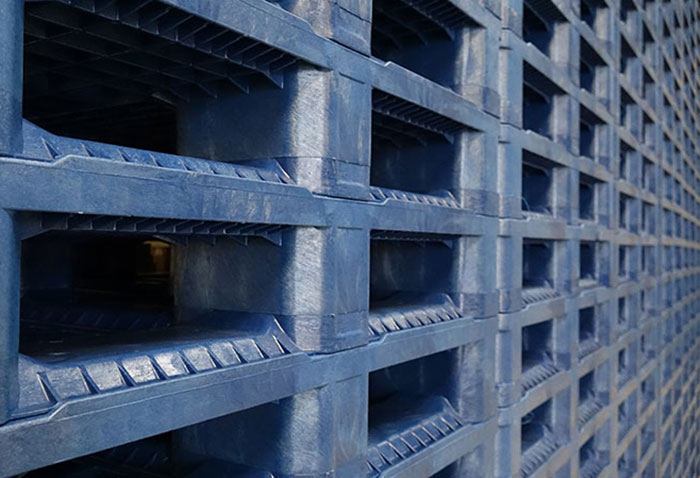 We've also come across businesses who appear 'trapped' into pallet rental agreements. A leading provider of packaging solutions for personal care products told us of the horrors of their rental misfortune. They were renting hundreds of plastic pallets and pallet boxes, which were not only costing them a fortune, but worst of all, when their two year rental agreement came to an end, they mistakenly renewed it to find the prices had increased – tying them into a further two year contract.
Without a doubt, in the right circumstances, buying plastic pallets and operating your own plastic pallet pool can show a real return on investment, and in some instances, in as little as six months.
At Goplastiplasticpallets.com we invest a lot of time into ensuring that we match our customers with the best plastic pallet for their application – and as the UK's largest supplier of plastic pallets we guarantee the widest choice. For expert plastic pallet advice, call our team on 01323 744057 or email sales@goplasticpallets.com